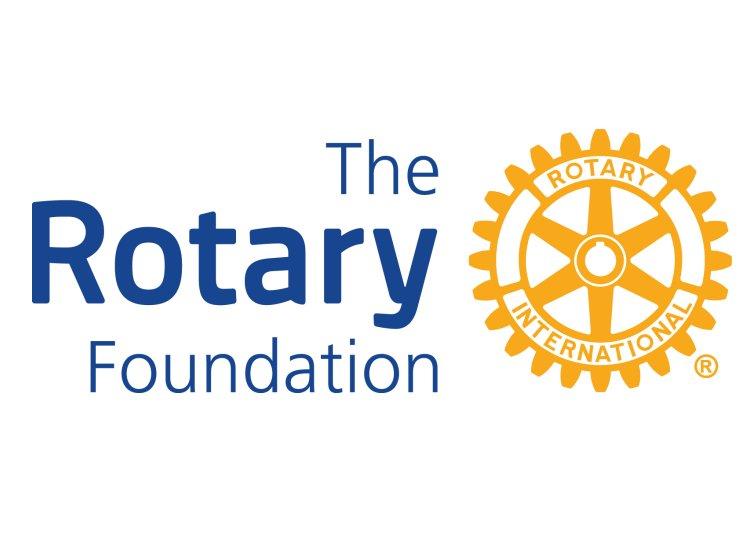 Information from our Charity, The Rotary Foundation
Our Mission...
is to enable Rotarians to advance world understanding, goodwill and peace through the improvement of health, the support of education and the alleviation of poverty.

Or to put it more simply,
to do good in the world
.
As Rotarians, what can we do to help our Rotary Foundation?
By contributing towards the final eradication of polio. The Bill and Melinda Gates Foundation offers each and every club an incentive to make donations to put the final nail into the polio coffin and fulfil our promise to the children and the mothers of the world. If each club pledges to donate £600 over the next two years we will meet the Gates Challenge and help raise over half a billion dollars!. Your club has donated how much?
By getting involved in the Foundation's programmes in order to alleviate poverty, improve health and support education. Actively seek and obtain Humanitarian Grants; seek out those remarkable people in our communities who believe in our dream of a peaceful world and find our first District 1020 Rotary WorldPeace Fellow.
By contributing to our Foundation, Every Rotarian Every Year - $100 or £67; about £6 per month, by direct debit. This is the best way to show you care and show your love for our fellow human beings. For a few pence each week, we can make a huge difference in the world. We can provide clean water, feed the hungry and provide books and medicine for those in need. If you love Rotary, it is obvious and natural to love its Foundation and more importantly love the work we do. To take the next step sign up to become a Sustaining Member of The Rotary Foundation .
Foundation Update
Foundation Committee Report March 2017

1. CHAIR'S COMMENTS
Visits to clubs continue, with me promoting giving to The Rotary Foundation and in particular how most clubs can receive grant aid for projects they already undertake. Contact me if you'd like me to explain how.


2. BREAKING NEWS
a) POLIO So far just 4 confirmed cases of polio this year, comparing favourably with
2016. There's an estimated 60 million people walking today because they did not
contract polio – thanks to Rotary's partnership we're eradicating polio.

b) KILTWALK. The Rotary Foundation is a registered sponsor charity of the Kiltwalk. This simply means any Rotarian or even non-Rotarian can take part in this series of sponsored walks and raise funds directly for The Rotary Foundation. Kiltwalks 2017 take place in Edinburgh, Aberdeen, Glasgow, Dundee and Speyside. Choose any one or more, get sponsored, enjoy the walk, raise funds. Well done.

c) ATTENTION REQUIRED
All clubs who received a District Grant this year need to complete the project and report on it so District can report to TRF by 30 June. Please don't leave it to the last minute. Please also advise me or Alan immediately if it becomes apparent you will not complete a project by 30 June, or if your project will be delivered under budget.

d) ACTION REQUIRED
Have you heeded the request to personally donate an additional £26.50 this year – to celebrate the Rotary Foundation's centenary? If not, please do so today. Hand a cheque to your treasurer. Why 26.50? That was the number of dollars of the first ever donation to our Foundation ( by the Rotary Club of Kansas )

e) DISTRICT / AREA / CLUB NEWS
We'll shortly have a further supply of purple for polio material crocuses – contact Ken Logan (Braids) and sell them to raise funds.

f) SPEAKERS
Do you know why the World Fund is so special and why it can increase your club's buying power in projects so much. A dedicated talk is available to tell your club why a Global Grant gives better value than a District Grant. If you have a larger project in mind – this is the talk for you.

g) THANKS.
Have you thought of leaving a legacy to The Rotary Foundation? Do you want to good in the world in perpetuity? You could be digging wells, building toilets or delivering other great projects by a bequest. Details ( in confidence ) from Alasdair
Essential Forms
District and Global Grants form 2017-18 - Download the form here
Application Process & Guidance - Download here

Gift Aid Form - for sustaining members. See the leaflet here and the form here

/upimages/distreps/1020/447//january Foundation Ne Club Memorandum of Understanding - Clubs should fill in the and send to Alasdair Seale. View here
Form 4 - Use this form when making a club donation to Foundation. The second page allows you to gift aid for all members.View here
Paul Harris Fellow - Use this form if you are making and application for a Paul Harris Fellow.
Useful links