Rotary International District 1270

Home | The Rotary Club of Hull inducts a new Honorary Member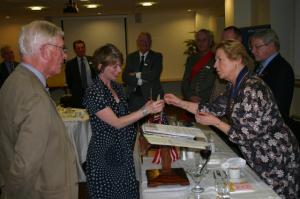 The Rotary Club of Hull inducts a new Honorary Member
The Rotary Club of Hull inducts a new Honorary Member
Lee Karen Stow, world-renowned photographer, Hull born and bred, was inducted as the latest Honorary Member of the Rotary Club of Hull at its meeting at the Village Hotel, Hull, on Wednesday 21st March 2012.
A Rotary Club may elect as Honorary Members persons who have distinguished themselves by meritorious service in the furtherance of Rotary ideals. Lee has more than fulfilled the criteria as found in the Object of Rotary and has exemplified, in her work among the young women of Sierra Leone, which is one of the poorest countries of Africa, the Rotary ideal of Service above Self. She has brought to these young women a fresh vision, both of themselves and of the wider world, and indeed a new life, as she has enabled them to use cameras to earn a living and thus gain economic independence through the use of their photographic skills.
Lee's remarkable achievement in her "Women with Cameras" project has transformed the existence of many women and their families, thereby truly advancing international understanding and goodwill.
M.Munro-Hill, 22nd March 2012.