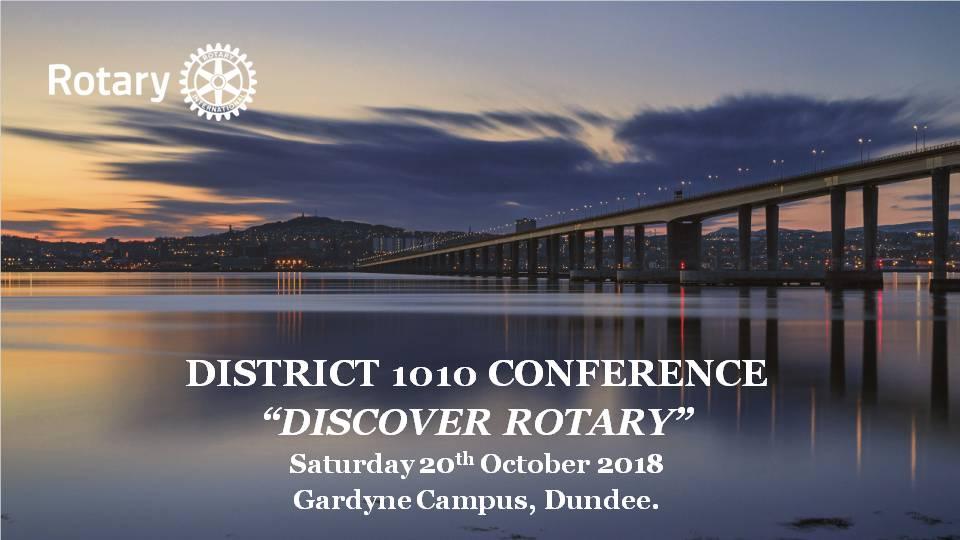 Rotary District1010 Conference 2018
District 1010 Conference 2018 - Discovery Rotary
District Governor 2018 - 2019 Ian Dow invites every D1010 Rotarian and partners, prospective Rotarians, Rotaractors, and E Club members to join him for our annual conference in Dundee.
Dundee is fast becoming one of Scotland's most vibrant cities with its large scale waterfront development including the V and A Museum nearing completion. DUNDEE One City, Many Discoveries. Dundee, the City of Discovery, is a modern city set in a stunning location at the mouth of the River Tay on the east coast of Scotland. If you haven't been recently then this is the conference for you.
The one day conference is to be held on Saturday 20th October 2018 at the Gardyne Theatre in Dundee. The theatre reopened in 2012 following an extensive refurbishment and has quickly become a favourite with theatre-goers throughout Tayside and Fife, for a wide range of events.
Conference 2018 at the Gardyne Theatre promises to enthuse while also giving opportunities to meet with friends old and new.

Main Speakers
DAVID CARRY was predominantly a middle-distance Freestyler who represented Great Britain at three Olympics and Scotland at three Commonwealth Games. Since his retirement in 2012 he has maintained his swimming involvement and is currently a Board Member for British Swimming.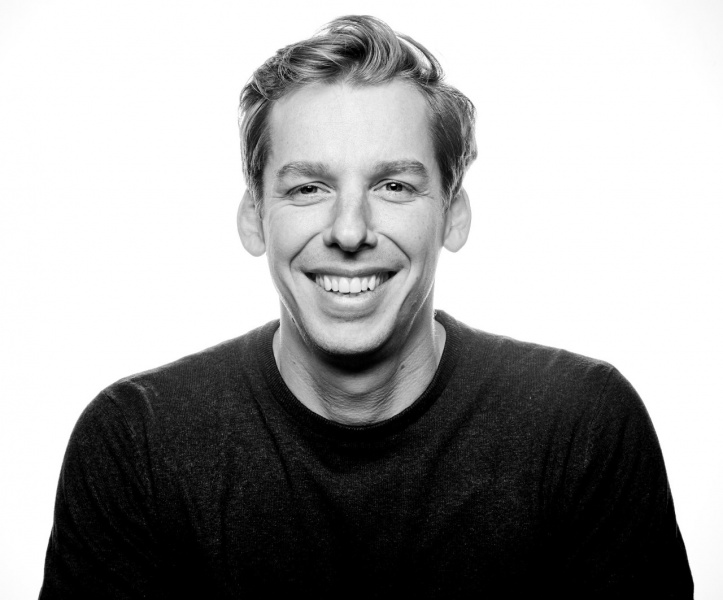 LOUISE BLAKELOCK Superintendent Police Scotland
Louise has benefited from her experiences in RYLA, involvement in a GSE visit to District 7950 in the USA and is now a Rotarian. She will share her story on how rotary inspired her.
STEVE FINAN Production Editor DC Thomson
His topic will be on the changes in communication.



Youth Speakers
https://form.jotformeu.com/RotaryDist1010/rotary-district-1010-conference-2
2018 is 'The Year of Young People' and 2 of their ambassadors will be at our conference to share their experience in promoting the event and the difference it has made to them.
Quarryhill Rotakids speaking about their garden project and their links with the district grant programme in Northfield Aberdeen
Interact and Rotaract speakers still to be confirmed
We will also have a performance by our District Young Musician of the Year (instrumentalist) – Abhisri Chaudhuri
Costs

The Conference committee has worked hard to keep costs to a minimum to encourage attendance.
Saturday day delegate £25.00 per person
House of Friendship
CALLING ALL CLUBS!! Do you have a story to tell, maybe a project which is making a difference in your community or internationally. Maybe you want to share your ideas with other clubs or try to get some extra support for your clubs' activities.
Why not take a stand at the House of Friendship? Stands are free as long as you have 2 delegates registered for conference. You'll have the chance to showcase your projects to over 300 Rotarians from most clubs in our District. For more information or to book a stall at this years' conference please contact Alistair Robb at agr200@hotmail.co.uk
Accommodation
There is no Conference Hotel, but there is a wide range of accommodation which can be booked through the link on the website to Dundee and Angus Convention Bureau
https://www.conventiondundeeandangus.co.uk/conference/103_2018-Rotary-Conference.html
Programme

Saturday 20th October 2018 – Conference Gardyne Theatre DUNDEE
8.30 Registration and Rotary Showcase / House of Friendship
9.00 – 9.45 Coffee/tea bacon rolls
10.00 – 10.25 Welcome and Introductions – Ian Dow District Governor
10.25 – 11.15 The Family of Rotary
• Celebration and Inspiration from Rota Kids, Interact and Rotaract
11.15 – 11.35 coffee /tea / House of Friendship / Rotary Showcase
11.35 – 12. 55 Personal Inspirations
• Andrew Batchelor –founder of Dundee Culture
• Fiona Campbell a RYLA Mentor
• Louise Blakelock Superintendent Police Scotland
12.55 -13.05 Abhisri Chaudhuri - young musician of the year
13.05 -14.15 lunch and House of Friendship / Rotary Showcase
14.15 -15.55 People of Action
• Paul McNeil Freedom from Fistula
• Vinay Ruperelia Books Abroad
• Janet Lowe End Polio Now
• Steve Finnan Communication D.C Thomson
15.55-16.15 coffee/tea / House of Friendship / Rotary Showcase
16.15 – 17.15 Achievement and Inspiration for the Future
• David Carry - Double Commonwealth Gold medallist
• John Johnstone – Conference 2019 and Rotary Convention
17.15 close of conference - Ian Dow District Governor
Registration
BOOKING CLOSES 28TH SEPTEMBER 2018
Registration can be completed by following the attached link. Payment can be made by credit/debit card or by Paypal.
Any assistance required, please email d1010conferenceregistrar@gmail.com
https://form.jotformeu.com/RotaryDist1010/rotary-district-1010-conference-201Registration - click here
https://form.jotformeu.com/RotaryDist1010/rotary-district-1010-conference-201