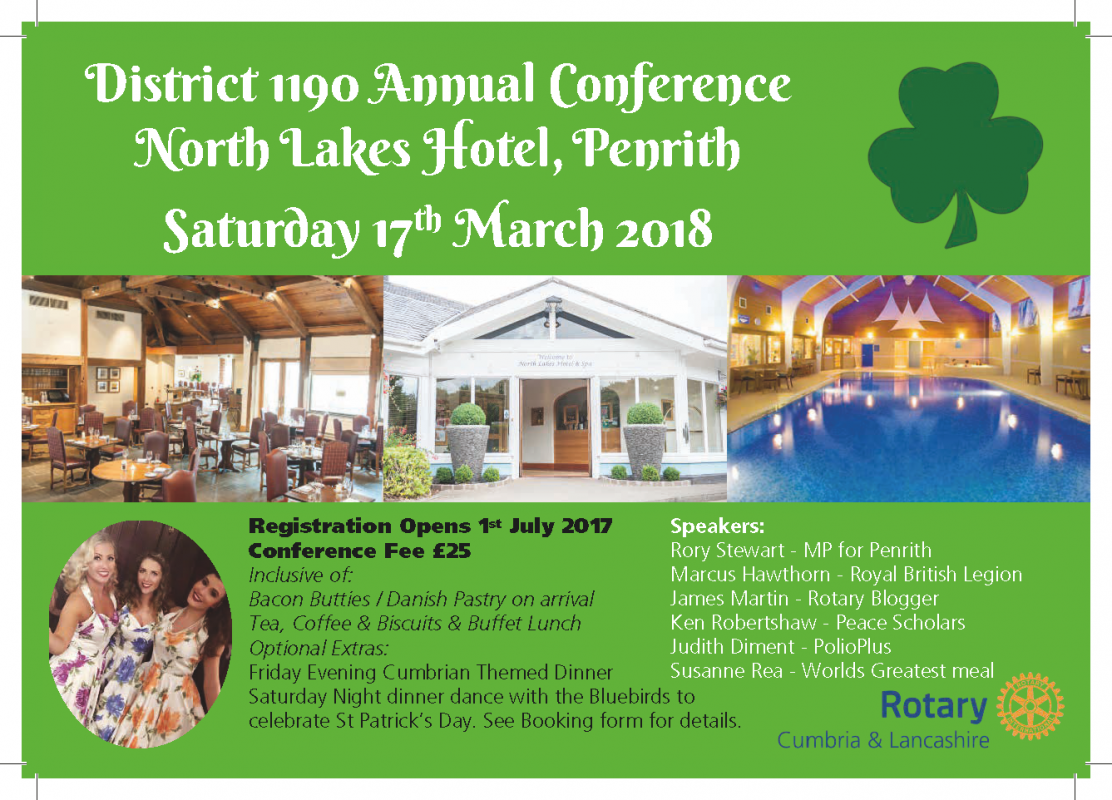 Future Conferences
District Conference 2018
The conference is on Saturday 17/3/18 - registration from 9 am, conference starts at 10.00 am and it concludes at 5pm. Coffee and bacon butties on arrival (vegetarian option), buffet lunch, varied programme of speakers.

Venue: North Lakes Hotel, Penrith - Telephone direct: 01768 868111
The Conference is now FULLY BOOKED and there is currently a waiting list.


Therere are still places avaialable to attend the Cumbrian themed dinner on Friday 16th and/or the Irish themed dinner on Saturday 17th March. Dress is smart casual, optional dinner dress.


Please book directly with Brian Politt email b.pollitt23@sky.com. Both dinner cost £30/person.





Confirmed speakers are James Martin (formerly the "Rotary Blogger"), Judith Diment (PolioPlus); Ken Robertshaw (Rotary Peace Scholars); Susanne Rea (Founder of The Worlds' Greatest Meal); and two speakers from the Royal British Legion.


It is with great regret that Rory Stewart MP for Penrith is unable to join us at the conference.


Paul Dawson, a full time professional magician from Leeds with over 15 years experience, combining a mixture of sleight of hand, misdirection, comedy and lots of surprises has been booked, and will entertain us for the final session of the conference.