Rotary International District 1090

Home | Interact | Interacting in Zambia
How one club has fostered international friendships among young people
Zambia 2012
My Rotary Club, Bourne End and Cookham have for the last 5 years supported our local Upper School, The Wye Valley School, with Project Zambia.

Up until 2010 a party of students have visited Libala High School in Lusaka, worked with the students over there and more recently worked in and with the junior schools that feed into Libala (they call them Basic Schools).

In 2011 for the first time funds were raised to bring over a party of Libala students and staff to spend 2 weeks in the UK, hosted by Wye Valley students and parents. During this visit they made many educational trips, visited our junior schools and also attended the Rotary Conference for District 1090 in Birmingham. I think it as fair to stay they featured in the morning session but "starred" in the afternoon Foundation Rally! This year it was Wye Valley's turn to return to Zambia and I was privileged to be able to accompany this trip and work with our young people and the Zambian young people.

It was also good to make connections with the Rotary Club of Maluba, Lusaka who have started to develop a strong connection with Libala High School. We were joined by their President Yashi Patel and among others District Governor Tony Sambo and Country Co-ordinator Kenneth Chibasekunda the most senior Rotarian in Zambia.

In the time the project has been running many things have been achieved, too many to list here but highlights include training over 400 Libala students to be Sports Leaders and Coaches, delivering a mentoring programme to be led by the older Libala Students, a computer suite where there was none and a vast quantity of educational material including GCSE Science resources, microscopes etc – I could go on but you get the idea!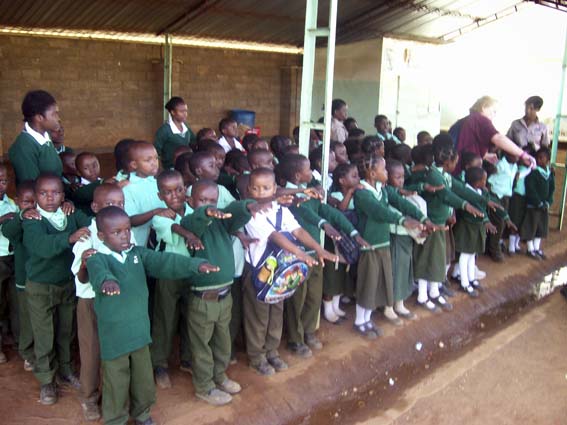 In 2012 we started to seriously work in the Basic schools as well, each one of which is now twinned to a school over here in our local community. This time we also took over 6 Literacy Boxes that were very well received, funding for these came from individual benefactors, my Club and our Interact Club at Wye Valley. I must also record that we have also enjoyed tremendous support from Foundation by way of District Simplified Grants towards some of the resource costs.

Zambia is an incredible place of such contrasts. In the government schools the things UK students take for granted are either just not there or in very short supply. That said the Libala and Basic school students are very proud of their education and see it as a privilege not to be wasted and the only way to progress in their country. Oh, if only some UK students shared this objective view!

On this trip after training and working with the High School students it was time for them to take their training to the Basic schools – all 4 of them and work with their children, this time with the Libala team taking the lead. All this is in part preparation for World Sports Day on June 25th when we plan for simultaneous events to take place at Wye Valley and Libala involving our respective Basic and Junior school young people. It is also planned to "connect" both events by skype and web cams so we will be watching them watching us – if you see what I mean.

Whilst in Zambia I was able, with Rotaractor Rachel Gerrish, to meet the Interact Club ably presided over by a young man called David Tembo and in the Basic Schools meet up with the 4 Rotakids Clubs started by Rachel and her friend Josie when they visited Zambia last year. I would add they went out to Lusaka on their own with support from teachers at Libala at just 18 years old. Thanks to them and to the Clubs of Lusaka Central and Maluba with regards to Interact we now have over 75 young people connected to Rotary.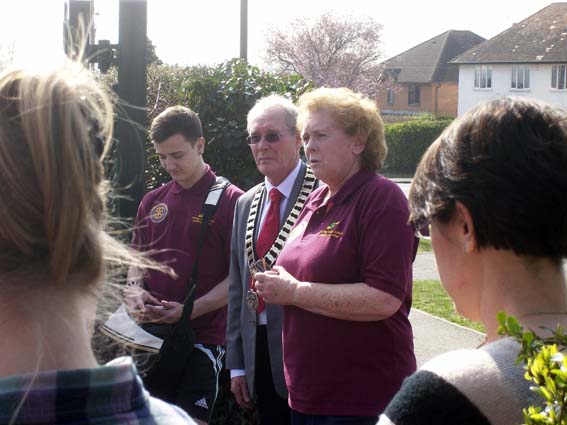 In our party there were many members of our own Interact Club including Natalie Gerrish (yes – Rachel's sister) so a truly international interact meeting took place.

All of the above was organized by Rotarian and Head of Sixth Form Sue Pomeroy supported by a team of link teachers in Zambia, my Club, Foundation and the students themselves who were required to raise most of the expedition costs.. An amazing trip with lessons learnt and life changing experiences brought back by all concerned.

A team from Zambia will visit the UK in 2013………………………………………..
Mike Ware, Rotaract & Interact Liason Officer
The special End Polio Now caps were donated by Judith Diment from those left over from the Gala Charity Dinner at Windsor