Rotary International District 1020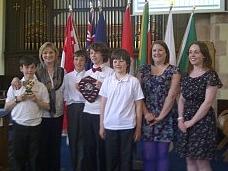 Longniddry are winners!
Congratulations to LONGNIDDRY PRIMARY SCHOOL who won a close fought final on 26th May 2012 in Innerleithen Church.

The lead changed hands several times and coming into the last round 7 of the 9 teams were still in with a chance of winning.

District would like to thank all the pupils, teachers, schools and Rotary Clubs that helped to make this year's quiz such a success.

It is estimated that some 1500 pupils took part from some 250 schools.
Add a public comment:
Comments, once approved, will be displayed on this page
Your email address will not be displayed on the page, but is required should you require contacting.
all fields are required