Rotary International District 1140

Home | District Handover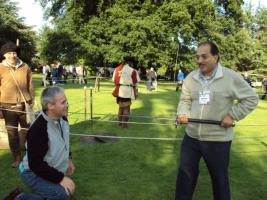 District Handover will take place at the Hounslow Club's meeting at The Master Robert Hotel. All Rotarians are welcome.
You are all cordially invited to Rotary International D1140 Handover with partners
7 for 730pm at the Master Robert Hotel, Great West Road, Hounslow.
Pan fried breast of chicken in an Italian tomato sauce
OR
Fish and Chips
OR
Filo Pastry Parcel filled with asparagus and baby spinach topped with creamy cheese sauce.

Dessert is Creme Brulee as standard. Ice Cream is available as an alternative.

The cost is the usual ú11 per head for everyone.

Could you please advise Rtn Arvind Jain & cc me in of your attendance and of any guests who wish to attend with their meal choice by 25th June. This would assist greatly with the meal order to the hotel and also table plans.
We are looking forward to a good turnout from especially the Rc of Cheam and the 2012/13 Rotary Team who will be supporting Mike & Becky.