Rotary International District 1110

Home | Press Releases | Interview With Mary Pike - Rotary Wessex District Governor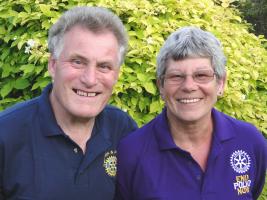 Having just taken over as the Rotary Wessex District Governor for the new Rotary year, Mary Pike spoke to us about her thoughts and plans for the year.
Three hundred Rotarians came to see Mary Pike be introduced by District Governor Caroline. Opening the assembly, Caroline said that she'd had a really good year and was very grateful to everyone who had supported her in the last twelve months. She was full of praise for Mary and was proud to hand over the reins to someone who she knew would prove to be an excellent District Governor.
I was keen to interview our incoming District Governor, so after the assembly finished, and a hectic and exciting morning was over, we left the District Assembly and popped into a local hostelry for a glass of lemonade, a sandwich and a discussion about the next twelve months.
For someone who had just delivered an important speech outlining her plans for the district for the next twelve months Mary looked very calm.
"I didn't feel calm," she said "but I knew it was important and I wanted to get it right."
Having listened to Mary's address, I knew she had given it a lot of thought. David Pike explained that she spent weeks preparing her speech, changing words here and sentences there. The look of pride in David's face was obvious for all to see.
Mary will be the third Pike in the family to be a District Governor, her husband David in 2004 and his father Geoffrey in 1971/2. Geoffrey went on to be President of RIBI in 1978/9. He served as an RI Director and as a trustee of The Rotary Foundation.
When I said that Rotary seemed to be a large part of her family life, Mary smiled and replied "Rotary has always been important to David and I and we really enjoy it."
Even when Mary was looking after the family business, she was still playing hostess to visitors from all over the world including three RI Presidents who stayed with them when they were in the UK. She has hosted scholars from Argentina, Brazil and India and enjoyed every minute of it.
Mary became even more involved with Rotary when they retired from their bakery business eleven years ago. She has been District Secretary for a long time and on July 1st she becomes District Governor.
"So what are your plans for your year and are there any areas that you are more passionate about?" I asked
"They are all important to me and so I intend to provide as much help and support as possible to all 78 clubs in the district. Rather than visit each club for dinner and a chat, I'd like to visit on the day that they are holding an event or a fundraising activity so I can get involved and help. I'm a dab hand with a book of raffle tickets."
Mary went on to explain "We are planning a road-show that will allow us to meet all the clubs a lot more often, similar to the group meetings. We will be able to explain what are rying to do, listen to the members and provide helpful support.
Membership is so important that we are carrying out research from clubs and other districts as to what works best when it comes to finding new members. By visiting the clubs more often in the district team I hope to be able to help with all areas of club activity."
Having spent some time interviewing Mary, the thing that crosses my mind the most is that she likes to talk about other people and is really proud of David. However trying to find out something about Mary herself is more difficult. My perseverance eventually paid off when I discovered that there was one occasion she will never forget. She arrived home one day and as she came down the side of the house she found herself surrounded by policemen with guns, policemen with dogs and a policeman in a helicopter above the house. They shouted for her to go in the house and to stay there. Some time later, they marched a man down the garden. He had been hiding in a water barrel and was armed! "How did you feel after such an ordeal?" I asked. She thought for a moment and said, "I thought I should ring the club to say I wouldn't be able to make it that night."
What about hobbies? She loves flower arranging. It's relaxing and allows her to think at the same time.
What about missed opportunities?
"David and I were campanologists for many years and we thoroughly enjoyed it. I was looking forward to ringing the bells at Winchester Cathedral in Rotary centenary year and unfortunately I had hurt my shoulder, so it looks like I'll have to wait to 2105."
I have no doubts whatsoever that Mary will put every effort into being a good District Governor. I suspect she will be a very hard act to follow.
Enjoy your year Mary.
Peter Clayton MPRC Chairman