Rotary International District 1010

Home | Literacy | Presidential Citation awarded to Winnie
Presidential Citation
At the District 1010 and RIBI Handover Lunch on Sunday I had the honour of being presented with a Presidential Citation by Ray Burman, the now Immediate Past President of RIBI, in recognition of the work done on the Book Project for CHAS.
I was of course delighted, but it is due to the tremendous generosity of you, the Rotarians of District 1010. Once again, thank you.
I should warn you though that I hope to become a volunteer for CHAS so we may meet again!
Winnie.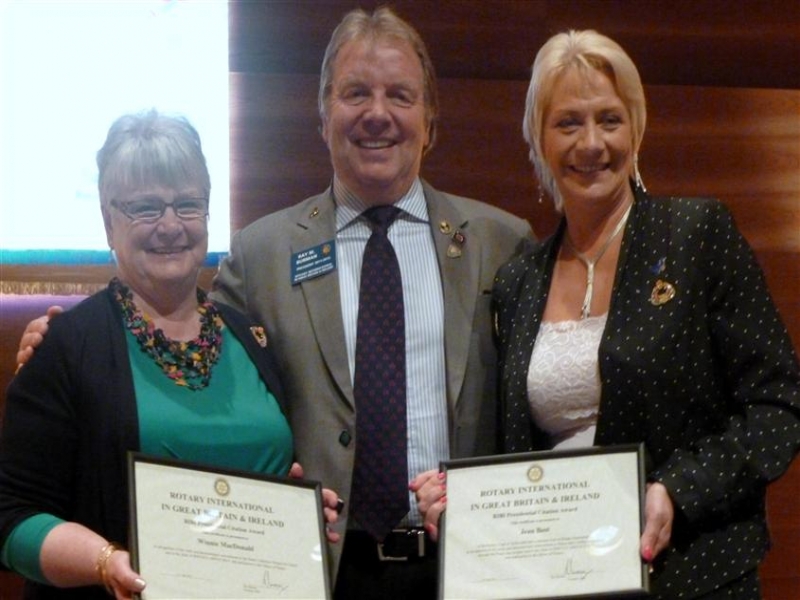 Winnie MacDonald & Jean Best (1020)
N.B. At the recent RIBI and D1010 Handover at Perth, Winnie was awarded a Presidential Citation by Ray Burman for her work with her Book Project this past year. Jean Best the wife of the 1020 DG was also awarded one for her work with 'Peacejam', a schoolchildren's project
Add a public comment:
Comments, once approved, will be displayed on this page
Your email address will not be displayed on the page, but is required should you require contacting.
all fields are required