Rotary International District 1100

Rotary District 1100 Conference 2013
Rotary District 1100 Conference 2013
The following speakers have confirmed to speak at the 2013 Conference:
David Hempleman Adams

David was born in Swindon in 1956. His interest in expeditioning began with his achievement of a gold medal in The Duke of Edinburgh Award Scheme. He has gone on to become the incredible explorer who was the first person in history to reach the Geographic and Magnetic North and South Poles as well as climb the highest peaks in all seven continents. He has undertaken several challenging balloon flights and in 2003 broke the high altitude record for open ballons.
He is also president of the Mitchemp Trust, a youth development charity working with vulnerable children.
Jane Walker

Jane is the founder of the Philippine Community Fund, a British charity that provides education, food, health care and skills training to families living on dump sites in the poorest slums of Manila including Smokey Mountain.

She visited the Philippines for the first time for a holiday in 1996, and began fund-raising after seeing the families living on the dump site. She founded the PCF in 2002 and set up a school in a warehouse.

In 2008, she was award the MBE for her charity work, and in October 2009 she was honoured at the 54th Women of the Year Lunch at the InterContinental Hotel, Park Lane, London.
Matthew Clark
At 20, Matthew was studying Business at Cardiff University. He had to take a gap year from his studies when he was diagnosed with Osteosarcoma (bone cancer). He went through 28 weeks chemotherapy and limb sparing surgery, which left him physically disabled.
As a way to thank those who have helped him through treatment he cycled with a small team from Lands End to John o Groats to raise funds for CLIC Sargent and Teenage Cancer Trust Wales. The journey of just under 1000 miles placed an enormous amount of strain on his body, as cycling any distance actively using one leg is a challenge to physically fit people, and required the help and support of many people to ensure he last the distance.
CLIC Sargent is a charity that helps children and young adults come to terms with cancer. As the children's cancer charity, CLIC Sargent is there… with clinical, practical and emotional support, every step of the way. While the Teenage Cancer Trust administer the treatment to young persons aged 13-24. The Teenage Cancer Trust provide excellent facilities that realise that young people have different needs to adults, and so aim to provide a homely feel to each of there units. Oncologists say that there is a 15% greater chance of recovery when the age group 13-24 are treated in age specific specialist facilities with staff who understand their psychological and emotional needs when a diagnosis of cancer hits them traumatically.
David Fowler

David was RIBI President in 2009. He is an interesting speaker on a variety of subjects.
Olie Milroy

At 19 years old, Oli was the youngest member of the Arctic Jubilee Expedition whose Patron was Prince Charles. This historic expedition marked the Diamond Jubilee by holding the world's most remote Diamond Jubilee Tea Party by climbing the highest point of the Queen Elizabeth Islands in Arctic. On returning to the UK the team were contacted by HM The Queen, in order to send her congratulations on our success. Just before the team set off, Oli was honoured as a torch bearer for the Olympics, since the age of 16, Oli has been an avid charity fundraiser raising a large amount of money for a mixture of charities. His background has involved a mixture of different events, including the opportunity to go to Auschwitz in order to teach school children about what they can learn from going there, since then he has clocked up over 50 hours of school talks around this subject and his a very polished public speaker. He also received recognition in the form of being made "Face of Charity for 2010" on the Kids are alright campaign and received two good citizenship awards from the Devon and Cornwall police force.
Ann Fox - Inner Wheel Chairman
Ann was born and raised in the central belt of Scotland, where she benefited from an education in a Scottish Academy, which are sadly no more. At the age of nineteen she joined her local Police Force as a Probationer Constable and served there for three years before transferring to the Metropolitan Police in London, where she served for another four years until starting her family.
She moved to Clevedon in North Somerset in the mid-seventies and in 1984 met and subsequently married her Rotarian husband Leslie, telling him that there was nothing that would induce her to join Inner Wheel ! She finally succumbed and joined Clevedon Inner Wheel in 1998 and now wishes she'd done it earlier as she has made some wonderful friends through her Inner Wheel service.
Ann has two sons and one daughter and also two grand-daughters and one grandson; in recent years she has occupied her spare time with studying through the Open University, singing in two choirs, membership of the U3A and pursuing her interests in theatre and music.
Ann is thoroughly enjoying her year as District Chairman and is looking forward to new experiences as the year progresses.
Nan McCreadie - RI President's Representative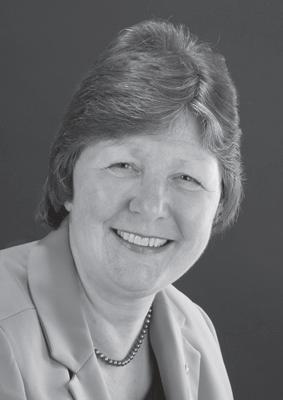 Nan McCreadie has spent her working life in the west London area, but originally hails from the west of Scotland. Her career is in civil aviation particularly in security. Nan is a partner in Asgard Security Management Services, set up to provide aviation security advice, consultancy and training to organisations nationally and internationally.
Nan is accredited by the Department for Transport as a trainer, authorised to design and deliver mandatory training required by personnel allocated to duties listed in the UK Aviation Security Training Programme. She is also an accredited Department for Transport Validator and carries out the periodic validation of the mandatory standards of known consignors of air cargo in the UK.
Nan's career with Rotary began when she received an invitation to join the Rotary Club of Feltham in 1997. She served as president in 2000/01 and went on to become assistant governor, becoming district governor in 2005/06. Nan has served Rotary as a member and chair of the RIBI Constitutions Committee, a member of the Leadership Development and Training Committee, AG facilitator and Sergeant at Arms. She has served RI as a training leader at the International Assembly, as the RI President's representative and as a Sergeant at Arms.
Nan is also a member of the Inner Wheel Club of Feltham. Nan's hobbies, apart from Rotary, are reading, travelling, and enjoying time with friends.
John Minhinick - RIBI President 2012-13
John retired in 2003 after 43 years working for the Meteorological Office in a number of overseas locations, including a short period in Cyprus. During that time he held a variety of posts including weather forecasting, computer programming, research and personnel management. From 1990, John was the Regional Manager for Scotland and Northern Ireland with responsibilities ranging from small island offices to two weather centres and three major military bases.
John joined the Rotary Club of Burntisland and Kinghorn in 1991, becoming the club president in 1997. Inspired by the great work of Rotary and keen to be involved as fully as possible, he soon joined the district team as International Chairman and progressed to the position of District 1010 District Governor for 2004/05, fondly known as the Centenary/Tartan Army team. Two years on the Executive Committee were followed by three years as the Chairman of the RIBI Communications Committee. John was also a member of the Marketing Action Group. In 2010, John was honoured to represent RI President John Kenny at the District 1190 Conference.
Always keen for Rotarians to be recognised for their great work, John created and presented the Ordinary Rotarians Doing Extraordinary Things (ORDET) awards during recent RIBI Conferences. These later became known as the Magic of Rotary awards. As part of the RIBI Executive, John led the review group that recommended changes to the RIBI Assembly and the follow‐up Mid Year Review. More recently, John has been involved in developing a long‐term plan to improve the membership of RIBI in terms of numbers plus gender and ethnic balance.
He has been married to Sheila for nearly 50 years. They first met at the South Harrow Jazz Club when Kenny Ball was playing. Sheila is as equally committed to helping communities and, for a number of years, has done voluntary work for the Fife Society for the Blind. John and Sheila have two sons, who were both born in Cyprus. Brian is a Civil Engineer living in Australia with his wife, Helen, and their two sons, Alistair and Patrick. Nigel, a train crew manager, lives in Shrewsbury.
John's Rotary club made him a Paul Harris Fellow in 2005 and, as a Sustaining Member, he personally made Sheila a PHF in 2011 in recognition of her invaluable support.
Studying is one of John's many passions and he was awarded an Honours degree by the Open University after studying modules in the Mathematics, Sciences and Technology faculties. In the past he has run many half‐marathons and the London Marathon three times. For hobbies, in addition to Rotary, John occasionally tries to play golf, enjoys walking and keeping a large garden under control; the latter is probably more a duty. He also enjoys travel and playing with computers.

---