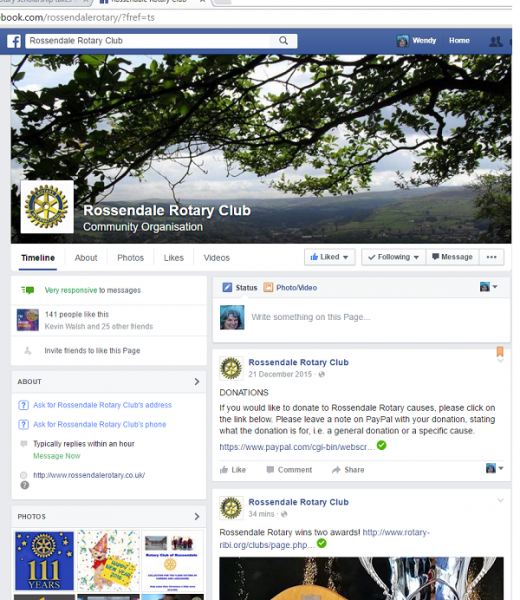 Club Facebook Page Competition
The 2015-2016 winners are Rossendale Rotary.
Previous winners are :
2014- 2015 Furness
2013-2014 Church & Oswaldtwistle.
A new competition for 2013-2014 was for the Best Club Facebook competition that helps to promote Rotary. This is for public pages.
Critieria that the page will be judged on are:
Public page (not a closed group or page you have to join)




Good and accurate use of Rotary roundel.




Eye catching profile picture & timeline




Pithy posts with a picture/s relating to club activity




Promoting a visually appealing image of an organisation active in its local community




Posts relating to Rotary in the national / international community




Use of questions to spark conversations and activity on the page




Frequency of posts - too few = no interest, too many = turn off




Friends – local and local business/organisations



To enter send an email to the Chairman of PR & Communications Committee by 31st January 2016 stating that your club would like to enter and giving the following information:
Facebook page name

Facebook administrators and whether club members or not

an email address for contact if necessary
Each page will be judged several times during February 2016. The winner will be announced and a Certificate awarded at the District Conference in March.