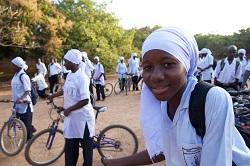 The Irish Prison Service have been working in partnership with Rotary Ireland since 2010.
Prison inmates, in Loughan House working in dedicated prison bike workshops, refurbish a large quantity of bikes every year for schools in Africa.
The benefits of this partnership are not only felt in Africa, where the bikes enable children to get to school, but also much nearer home.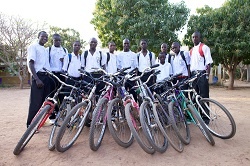 Contacts in Rotary Ireland
District Co-ordinator John Trimble Rotary Club of Enniskillen
E mail johntrimble642@gmail.com
T 00447710800417
International Services Chair Sean Dunne
T 00353872220055
Rotarian John Trimble Rotary Club of Enniskillen has agreed to take over as District Co-ordinator for this project. Clubs all over Ireland collect bikes locally, send them to one of the collection point in the North / South. For delivery to Loughan House Open Prison in Cavan for refurbishment by the inmates there, before onward transport to a Rotary Club in Africa. Clubs are asked to go into their communities to collect say 20 /25 bikes per annum.
Clubs who participate are asked to send €10 per bike to the District Treasurer payable to RIBI District 1160. Rotary Ireland must provide and pay not only the transport costs but for all the spare parts and equipment used by the prison to make the bicycles useable again.
In summary
1. Only send suitable bikes, bear in mind these are used over rough terrain by secondary school kids in the age group 13-17. Racers with narrow tyres and wheels, kiddie's bikes with balance wheels and rusty old wrecks are not suitable.
2. When sending a load estimate realistically how many good bikes will be achieved out of your load, part bikes for example should not be counted as these will normally be cannibalised to provide parts to complete other bicycles.
3. Send an email johntrimble642@gmail.com every time you make a delivery to the collection point, stating number of bikes delivered and date.
4. When sending the bikes to the holding depo at Enniskillen Airport or The White House Ashbourne, the following procedure must apply.
A) Bikes must be tagged with the name of your club
B) Email sent to John Trimble johntrimble642@gmail.com
C) Email sent to Simon Rutledge at the White House c/o swan.verity@gmail.com
D) Clubs delivering bikes to Enniskillen must do so, during business hours only and with full cooperation of the person they speak to on the phone to make an appointment to deliver, giving due notice. The address is Enniskillen Airport, 62 Killadeas Road, Enniskillen, BT94 2FH Tel: 028 6632 9000.
5. And finally send the money €10 per bike to cover your load directly to the District Treasurer payable to RIBI District 1160.