RIBI Young Citizens Award
RIBI Young Citizen Awards
CELEBRATING INSPIRATIONAL
YOUNG PEOPLE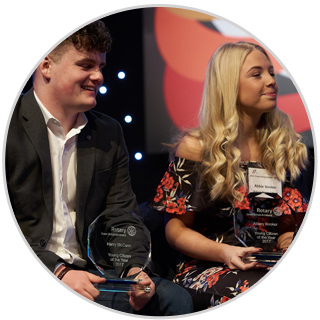 The deadline for nominations for the Rotary Young Citizen Awards is just around the corner.
If you know of an outstanding, inspirational young person or group under the age of 25 whose citizenship and dedication to a project or projects deserves national recognition, please nominate them by downloading a copy of the Young Citizen Awards information pack and nomination form.
Rotary is privileged to be continuing with the Rotary Young Citizen WheelPower Sports Award.
This special Award is sponsored by the British Wheelchair Sport charity WheelPower, with whom Rotary has partnered to help transform the lives of disabled people through sport.
Every nominee receives a personalised certificate, with the lucky winners receiving a trophy and 500GBP for their chosen charity or project they are involved with, which will be presented by TV Presenter Ellie Crisell at Rotary's 2018 Conference in Torquay.
The Tenth Anniversary of the Awards in 2017 were shown live on the BBC News Channel and you can find out more about the winners and read their inspiring stories.
The closing date for nominations is Friday 26th January 2018.
All enquiries regarding this competition In Rotary Ireland should be addressed to:
Philip O'Flynn
Rotary Club of Mallow, Co. Cork.
email: philipoflynn@yahoo.com
M: 00353 (0) 87.2071843