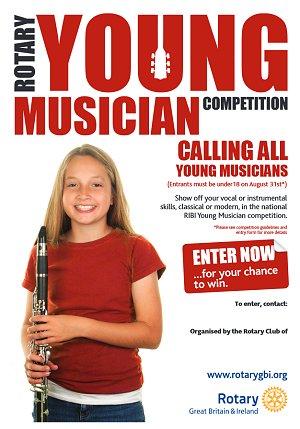 Young Musician Competition 2017-18
Calling all young musicians.
Music is an international language and Great Britain and Ireland is home to some of the most talented young instrumentalists and vocalists in the world. The RIBI Young Musician competition encourages this talent by providing an opportunity for the thousands of young people who enter each year, to demonstrate their musical skills.
The competition is a celebration of the talent of young musicians who have progressed through local club competitions, district competitions and regional finals to reach the national final. There they compete to take home the prestigious title of RIBI Young Musician.
Anyone who knows of any talented young musicians in their schools, youth clubs or local communities, should contact their local Rotary club for further details.
Clubs and districts which are organising competitions can visit the RIBI Youth Service Committee web pages for more information, guidance and marketing materials (which may require modification for our district 1020 competitions).
More Information
Details on local co-ordinatirs will be published shortly, but the RIBI Information Pack can be downloaded here.