July's fine weather added to the enjoyment for 32 young people on the Rotary Young Leaders Award course at Rhos-y-Gwaliau in Snowdonia. See slideshow above.
Rotary Young Leaders learn new skills in Snowdonia

The glorious summer weather no doubt contributed to the success of this year's RYLA adventure training week from 19 to 26 July, but the success of any such venture is dependent on the enthusiasm of the participants and their willingness to overcome fears, learn more about themselves and their capabilities and develop their ability to work as a team. All 32 Young Leaders had these qualities in abundance and judging from their comments when reporting back to their sponsoring clubs, benefitted greatly from their experiences.
"I thoroughly enjoyed RYLA. The week was so different to anything I've ever done before, because of the types of activities and how they were run. I learnt a lot about what I could do and my confidence grew as I had to lead and communicate to complete strangers throughout the week in order to accomplish the tasks set. RYLA was one of the best weeks I've ever had, and I highly recommend it." Ryan, who had recently completed his A levels at Bourne End & Cookham
Organised by Rotary clubs in the Thames Valley, the RYLA journey begins when clubs seek suitable candidates from all walks of life, hold interviews and sponsor their chosen candidates to develop their leadership skills during this special week. The course itself is based in Rhos-y-Gwaliau, a small hamlet near Lake Bala in the Snowdonia National Park, North Wales. The Centre is staffed by a small group of dedicated and talented course leaders, professionally qualified in outdoor leisure pursuits. The young people are picked up from various meeting points in the district and transported to the Centre by coach. Shortly after arrival the group is split into four teams, each with one Rotarian to assist the staff instructors.
"I gained leadership skills, faced my fears, learned how to sail a boat and discovered that I really enjoy canoeing"
Sarah Flude, a biological sciences under-graduate at Reading University

The first part of the course concentrated on team building activities. This was followed by learning new skills, including orienteering, rock climbing, abseiling, high rope walking, sailing, canoeing and slate mine exploration. These skills were then applied in a 30-hour group challenge in locations around the Snowdonia National Park, including a night in the open. During the exercise each team decided who would lead them for different tasks allowing all participants to practise the leadership skills they had been learning.

"I feel privileged to have both experienced and witnessed the growth in confidence and competence of my group". Katie Keating-Fedders, a Royal Berkshire Hospital clinical research trials assistant
The journey does not end when the young people are dropped off at their home destinations. All candidates are required to present a report of their experiences to their sponsoring clubs. Here they are given their Rotary Young Leadership Award certificates, and for many their experiences have been the start of a new journey ..............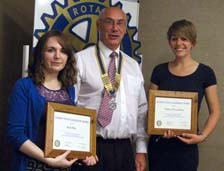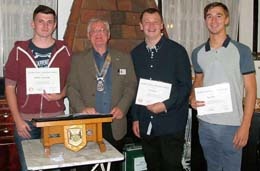 "It is always inspiring to see the value these young people get from their participation in RYLA" Colin Moir, President of the Rotary Club of Reading Maiden Erlegh
"RYLA is quite simply a brilliant experience for our young people and one of the best things our organisation promotes." Mike Ware, Youth Service Chair, Rotary Club of Bourne End & Cookham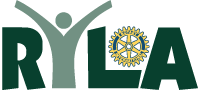 Download details for the next RYLA course here
With thanks to Glyn James for the slideshow images

Contact Carole Lowe about this page: