Young Musicians Light up Rotary
Thames Valley winners and runners up from recent RIBI Young Musician competitions stunned their audience at the beautiful and historic Dorchester Abbey
Musical Soiree at Dorchester Abbey
If you sat in Dorchester Abbey on the evening of 30 April 2015, closed your eyes and just listened to the music, you could be forgiven for thinking that you were attending a concert given by mature professional musicians.
Rotary in the Thames Valley is justifiably proud of its record for encouraging young people to develop their talents and have had major successes, particularly in the Rotary in Great Britain and Ireland Youth Competitions. Last year classical pianist Robert Cheung became national Young Musician 2014 and this year we have another national finalist in vocalist Florence Cain. So this evening in an historic and beautiful venue, much in demand for concerts and other events, was a fitting showcase for the immense talents of our young District Musicians
District Governor Tim Cowling welcomed the audience and distinguished guests, RIBI President Peter King and his wife Di, promising we all had a 'real musical treat in store'. And indeed we did! David Pope, freelance counter-tenor, leader of the District 1090 choir and nominated as District Governor 2017-18, compèred the evening and led us through a programme of great diversity and complexity, performed to an astonishingly high standard.
The first half of the programme featured the many talents of Thames Valley District winners and runners-up - Rebecca Babbage, sisters Eve and Florence Cain, Bella Bourne Swinton Hunter and Tavia Lewis - and some incredibly beautiful music, expertly performed. During the interval, the audience positively buzzed with excitement at what they had just experienced.

The second half of the programme belonged to current RIBI Young Musician, Robert Cheung. He delighted his audience by opening with a stunning performance of Franz Liszt's "Liebestraum", one of the pieces that won him the national final in Truro last May. His extensive performing experience was evident, not only in his accompished playing, but through the wit and charm used to introduce all six of his pieces. He was congratulated by Peter King, President of Rotary in Great Britain & Ireland, and keen concert-goer, on a brilliant performance of exceptional maturity.
All too soon it was the end of the evening, but what an evening! And all for the bargain price of £16, which included a glass of wine or soft drink at the interval. Definitely worth considering as a permanent Annual Event.
Grateful thanks to all the hugely gifted performers, their accompanists, parents and tutors. Also to their sponsoring clubs and the concert organisers, Moya Harvey and Anne Coulson. Not forgetting our helpful and welcoming hosts at Dorchester Abbey. Thank you all for a splendid evening!
The charities benefitting from the evening are SeeSaw, grief support for children and young people and End Polio Now. In view of recent events in Nepal, an additional collection was made during the interval, which raised £400 for earthquake relief.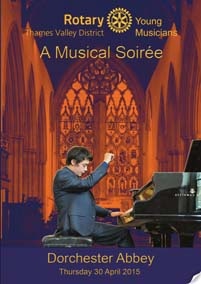 View a page turning full programme here
Or download a Programme.pdf here



Photos by Ian Valentine and Sarah Shears
Updated by Liz Yardley 3/05/2015