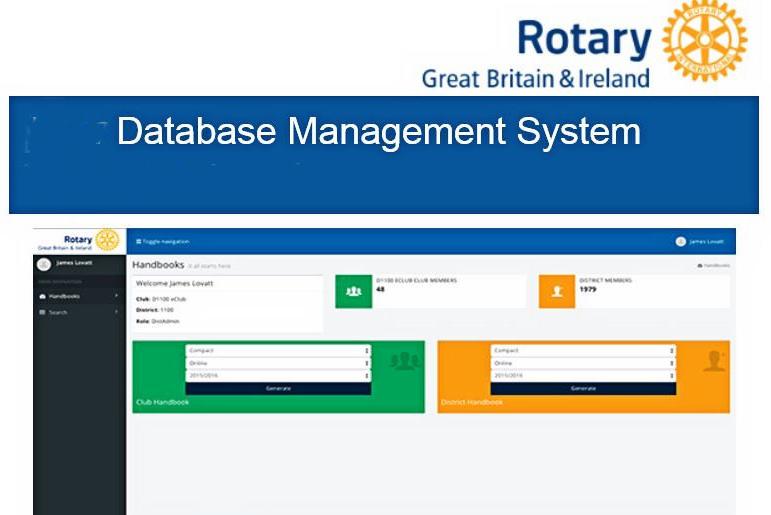 DMS - The new system for the maintenance of Club Membership records including the details of new and leaving members and for preparing Club and District Directories - and other useful stuff ...
Click HERE to download a detailed guide to the use of DMS

Click HERE to go to the DMS pages

Note that log in is required, using the user name and password as registered with RI and RIBI (My Rotary).
Click HERE to download a guide to opening a My Rotary Account

The membership data used in the Searches and Directories generated by DMS is derived directly from that recorded in the database associated with this Template website. Registered members are able to manage their own "Rotary-relevant" data, as are designated members of their own Rotary Clubs, by logging in to the Members Area of this website - additions and amendments can therefore be dealt with "in-house". In other words, the completeness and accuracy of the membership data is entirely dependent on individual members and the secretary or administrators of their respective Clubs.

Maintenance of CLUB OFFICER Records

DMS provides the means of maintaining details of a limited number of Club Officers for the current and next Rotary Year. Click HERE to download detailed instructions for this process.
These instructions are also available via the DMS Online Help.
The process is limited to the maintenance of Club President, Secretary, Executive Secretary, Treasurer, Foundation Chairman and Membership Chairman. For the maintenance of other Club Officers RIBI-T must be used - notes on the use of this facility are included in the downloadable guide to DMS referred to above.