Sir Nicholas Winton 1909 - 2015
'If a thing is not obviously impossible to do, then there must be some way of doing it'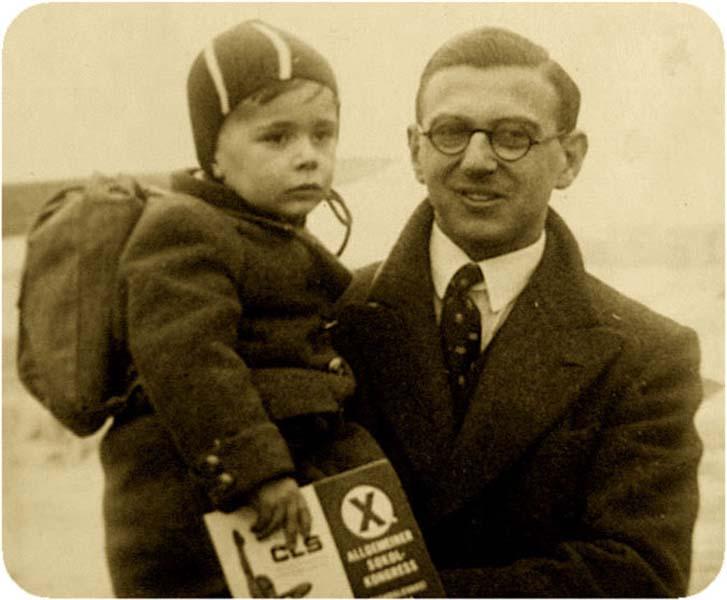 A Truly Remarkable Humanitarian
Sir Nicholas Winton, who in 1939 saved 669 mainly Jewish Czech children from almost certain death in the Nazi Holocaust, died peacefully in hospital early on Wednesday 1 July, just 6 weeks after his 106th birthday. His daughter, son and two grandchildren were at his bedside.
Although it is with great sadness we mourn the loss of this quietly spoken, gentle man, we celebrate an inspirational life, modestly led. Rotarians, and indeed all those who knew him, feel privileged and humbled to have shared the fellowship of 'Nicky' Winton who put Service Above Self in everything he did as a matter of course and to quite astonishing effect.
'Don't be content in your life just to do no wrong – be prepared every day to try and do some good'
This was Sir Nicholas' motto in life and long before he gained (belated) international recognition for masterminding and funding the 'Kindertransport' from Prague, he was being recognised for charitable works, mainly with Mencap and the Abbeyfield Housing Trust, in his Maidenhead community. Indeed, few knew of his work saving the children as he never spoke about it. It wasn't until his wife, Grete, discovered a brief case of the children's records which he had meticulously made to gain them safe passage to foster families in the UK that it all came to light, some 50 years later. Believing that the children themselves might have a need to know missing details of their early lives, Grete took them to a Holocaust historian. A newspaper article was published and Esther Rantzen told the emotional story on That's Life!, when the entire audience was made up of the 'children', now well in to their middle-age, all meeting Sir Nicholas for the first time since they were put on the trains in Prague station or met at Liverpool Street on arrival in England.

The 669 rescued children have had their own children and grandchildren and 'Nicky's Family' now number over 6,000. All those who know of their 'saviour' express their deep gratitude at having the chance to live and follow a wide diversity of careers in their adopted homelands or back home in the Cech Republic. Sir Nicholas was always quick to point out that he was not alone in his endeavours and 'seldom in danger, simply the only one involved still alive'.

Sir Nicholas features quite often on these 'Ordinary People' webpages, simply because he never ceased to do Extraordinary Things. Its a great sadness that he was never awarded the Nobel Peace Prize that many felt he so richly deserved. In the last few years a group of students in Prague, on learning what Sir Nicholas had done, initiated a world-wide petion to get him this honour and although he was officially nominated by the Czech government, it was regretfully not to be. That is the world's loss, but his legacy lives on as new generations of children and others learn of his work through all the history projects in places of learning and public memorials to his selfless actions.
Tributes have flooded in from all over the world. The New York Times is but one and typical of the high regard in which Sir Nicholas was held. The local BBC Berkshire News another.

His Rotarian friends remember him with great affection
He was the living embodiment of everything that is best about Rotary and will be greatly missed by everyone who was lucky enough to have known him. Tony Bacon, Past District Governor D1090
His life has been one of quiet service, and he totally fulfilled the exhortation of Horace to 'Do good by stealth and blush to find it fame'. Mike Holness, Rotary Club of Maidenhead


Poignantly, Sir Nicholas died on the anniversary of the departure of a train in 1939 carrying the largest number of children - 241.
---
"There is a difference between passive goodness and active goodness, which is, in my opinion, the giving of one's time and energy in the alleviation of pain and suffering. It entails going out, finding and helping those in suffering and danger and not merely in leading an exemplary life in a purely passive way of doing no wrong." Nicky Winton 1939

---
For further information see
Sir Nicholas Winton
website
See details of the award-winning film
'Nicky's Family' by Menemsha Films
Watch the trailer of
Nicky's Family on YouTube
Download more information from Mike Holness on
Nicky Winton of Maidenhead Rotary Club