Autumn Walk
A nice walk around the coastline at Noss Mayo followed by lunch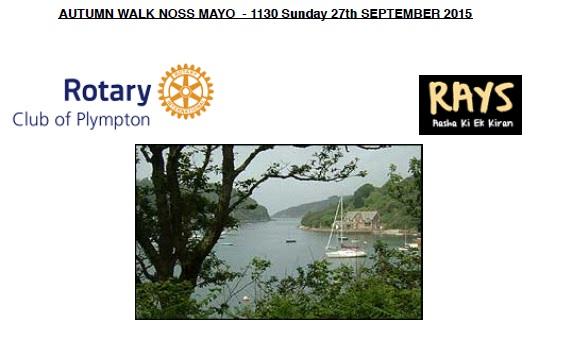 A nice walk around the coastline at Noss Mayo followed by lunch
On Sunday 27th September Plympton Rotary Club is organising a circular 4 mile walk from the Ship Inn at Noss Mayo, along the Yealm Estuary to the Coast Path at Mouthstone Point and then along Revelstoke Drive carriage path, past Warren Cottage and returning to Noss Mayo for lunch.
The walk is moderate with no steep ascents and will include a stop half way round for any
refreshments that you may have brought with you. It is suitable for anyone who is moderately fit.
The walk will take two and a half hours and will start from the car park at the head of the creek by the Ship Inn at 1130 returning for optional lunch at the pub by 1400. Lunch will need to be organised separately. If you do not feel up to the walk but would like to just meet for lunch you would be most welcome.
Parking is available beside the Tennis Courts in Noss Mayo or at the head of the creek by the Ship Inn. Low tide is at 1205 so you will be safe to park from 0800 until at least 1600.
The cost of the walk is £5 per person with all proceeds going towards our International Charity RAYS.
Friends and family will be very welcome to join us.
For further details and reserve a place on the walk please e mail Malcolm Carmichael.