Stewards urgently needed for Countryfile's Ramble in Windsor Great Park in aid of Children in Need. Please support this Rotary partnership project!
Countryfile Ramble with Anita Rani for Children in Need
Sunday 11 October from 8.00am

Windsor Great Park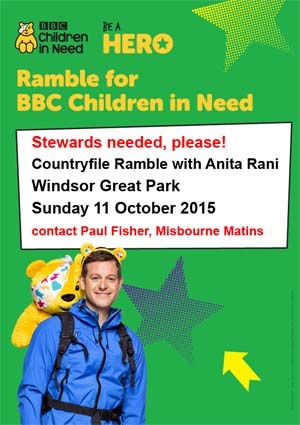 Be part of the fun at this official BBC Children in Need Countryfile Ramble and fly the flag for Rotary! Paul Fisher, the Rotary / Children in Need partnership Co-ordinator would be very pleased to hear from anyone able to give a few hours to help with parking and registration at this fully booked event.

30 volunteers urgently needed.
Please email Paul or contact him on 07500 010668 for full details of arrangements. Thank you!