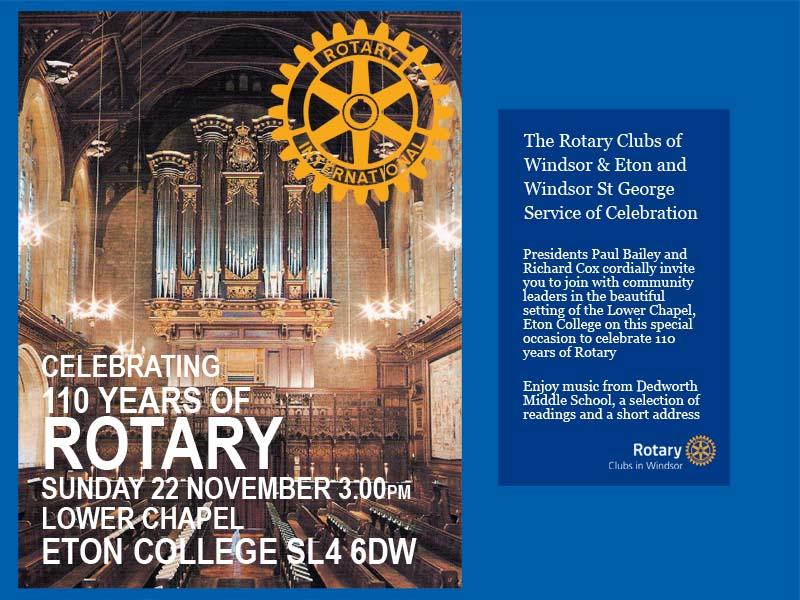 Service of Music and Readings in the stunning setting of Eton College's Lower Chapel to celebrate 110 Years of Rotary.
Service of Celebration for 110 years of Rotary
Lower Chapel, Eton College, South Meadow Lane, Eton SL4 6DW
Sunday 22 November at 3.00 pm
The Rotary Clubs of Windsor & Eton and Windsor St George cordially invite you to this special occasion in Eton College's beautiful Lower Chapel to celebrate 110 years of Rotary.
With music from Dedworth Middle School, a selection of readings and a short address, the service is anticipated to last for approximately an hour,
Full signage to the venue and car parking is available a short walk from the Lower Chapel
We do hope that you will be able to join with us, District Governor Fred King, The Mayor of Royal Borough of Windsor and Maidenhead and The Mayor of Eton on this special occasion.
Paul Bayley, President of Windsor & Eton Rotary Club
Richard Cox, President of Windsor St George Rotary Club
Please contact Richard Cox to confirm your attendance, for 'housekeeping' purposes.