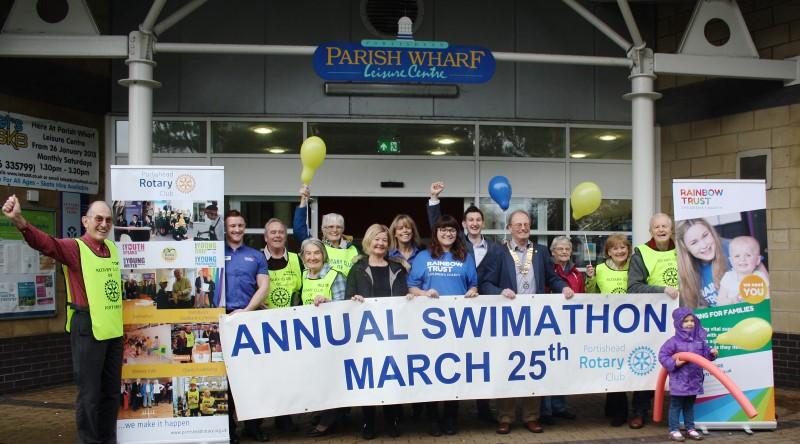 Our Annual Charity swimming marathon.
Swimathon 2017
In 1997 we held our first Annual Swimathon at Parish Wharf Leisure Centre and in those 20 years, with your help, the event has raised just over £183,000 for numerous charities, schools and groups in the Gordano Valley and beyond. This popular and major event in the Portishead calendar will take place on SATURDAY 25TH MARCH 2017 and we invite you to take part by forming a team or teams to join in the fun and laughter of the day.
Teams from Primary and Secondary Schools, Guides, Brownies, Scouts, Cubs, Football, Youth and other groups, organisations, families etc. from Portishead, Clevedon, Nailsea, Backwell, Avonmouth and other parts of the area take part each year. Teams of 6 swim in a relay at their own pace (it is not a race) for 35 minutes. Age is no barrier but all entrants must be able to complete a length of the 25 m. pool competently. They should also be aware that during their session they will be starting some of their lengths in the water at the deep end of the pool. We have special arrangements in place for weaker or non-swimmers but need advance notice of anyone in this category. Each swimmer is asked, through sponsorship, to raise as much money as possible.
Swimathon continues to support local charities and this year our main charity is
...providing emotional and practical support direct to families who have a seriously ill child
plus
PORTISHEAD YOUTH CENTRE
GORDANO VALLEY LEG GROUP
SCHOOLS PROJECTS AND OTHER LOCAL GROUPS AND ROTARY CHARITIES
We are very keen to hear from any schools that are looking for financial support for a project they are undertaking. Tell us about it, enter a team (or teams) and we will help you.
To take part in Swimathon 2017, please complete the enclosed Entry Form and return it to me as soon as possible but no later than 13th March. For more information my contact details are below.
Yours sincerely
Rotarian Mollie Young
Chairman, Swimathon Team
8 Trinder Road, Easton in Gordano, BS20 0LX,
Tel. 01275 372725, Mobile 07788 590371
Email: mollieyoung@talktalk.net
Download Sponsorship Form (PDF)
Contact Mollie Young about this page: