It was very much Ade's day at the Rotary South East conference on Saturday 29th October 2016.
Born in Nigeria, Ade contracted polio aged two that affected both his legs, and his parents made decision to move to UK when he was three. He went to school in Plaistow, East London, and was recognised by his school-mates as a 'tryer'; especially in sports.
Ade was spotted by two physios with an 'East End Project' while being pushed on a sponsored supermarket trolley race, and he was persuaded to become involved in the programme. Thanks to that, Frank Bruno raised money to buy him a lightweight self-propelled wheelchair.
Ade completed in a scratch paralympic basketball team in Cyprus that beat the favourites (the Germans), and has never looked back. He has now become a Rotary polio ambassador, and advocates for the the polio eradication endgame.
He so richly deserved the standing ovation the hall gave him following his conference appearance. Ade also donated his appearance fee to the fight to eradicate polio.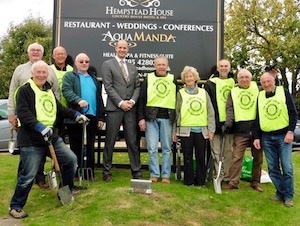 World Polio Day
Monday 24th October was World Polio Day, and to mark the event a group of Rotarians from the Sittingbourne Invicta and Sittingbourne & Milton clubs met at Hempstead House Hotel to plant 5,000 purple crocus corms.
Purple crocuses are the international symbol of the campaign to eliminate this dreadful disease from the world. Initiated by Rotary International and supported by other organisations, this campaign is at the point of total elimination of the disease.
In 2016 to 30 October there have been only 30 cases of polio, compared to 74 in the same period of 2015, and 350,000 cases in 1985 when Rotary's campaign began. Despite this success, $1bn per year will need to be spent on vaccinating children for the next few years until we have two years without a case and a polio-free world can be celebrated.
The corms have been planted on the bank outside the hotel, and will provide a spectacular display in the early spring of 2017 and subsequent years. The picture shows the team from the two clubs with Mike Wood, Manager of Hempstead House Hotel.
---
Victory for Invicta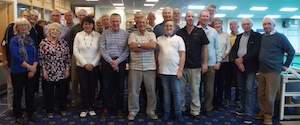 Invicta vs Sheppey
Thirty people from The Rotary Clubs of Sittingbourne Invicta and The Isle of Sheppey met at the Swale Indoor Bowls Club on Wednesday 19th October 2016. This has become an annual get together to renew friendships, but it is also a serious bowls challenge competition.
The 24 players had training at the start of the evening, followed by bowl practice and then a buffet supper before the competition got underway.
Four teams then spent over 2 hours bowling. With Sheppey winning previous years, it was good to see Invicta as overall winners on the night with all matches won. Total: Invicta 46, Sheppey 23.
---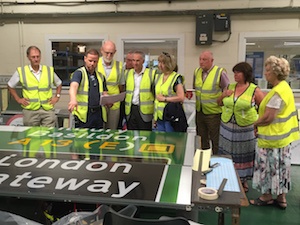 Inspecting signs made by RBLI
Visit to RBLI
22 Sittingbourne Invicta Rotarians and partners visited Royal British Legion Industries (RBLI) in Aylesford on Monday 25 July 2016.
This was an alternative meeting to our normal evening meeting. Geoff Streetley, Director of Commercial Operations, gave a presentatation in the boardroom about RBLI; covering its aims, assests, products, services and funding.
Club members were then split into two groups for a tour of the factory, which took us through the sign-making area where we were shown their state of the art printer. The tour then went into the Connect area where workers were making display models for shops. We were also shown the pallet making and pallet recycling facility.
Finally, we all enjoyed a lunch back in the boardroom. Everyone said they enjoyed the visit, and thanked Geoff for making the visit possible.
---
Maasai Warriors in Bexhill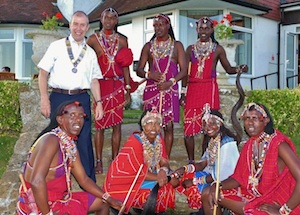 Maasai Warriors dance for Bexhill
At the beginning of July, Bexhill Rotary Club heralded a new president, Geoff Longmire, and it was at his first full meeting in charge at Cooden Beach Golf Club on Tuesday 19th Julythat he was 'invaded' by a troupe of Maasai Warriors who performed authentic Maasai tribal dance.
The Osiligi Maasai Warriors, to give them their full title, come from the village of Oleopolos and surrounding communities in southern Kenya and are currently on their fourth tour of England.
The Warriors, resplendent in traditional costume, gave a stirring display of song and dance, which included the famous Maasai jumping – at one point President Geoff Longmire was hauled on to the dance floor by one of the Warriors and he gamely set about giving a reasonable impression of a Maasai Warrior even including one or two impressive jumps, much no doubt to his surprise and certainly to the surprise of the assembled Rotarians and their guests.
Not only were the Rotarians and guests treated to tribal dancing but also to the history of the Maasai. The Maasai used to rely on their warriors fighting other tribes, quite often for the possession of cows (the Massai consider all cows in the world belong to them), but nowadays the warriors swear by the pen in one hand and a book in the other, instead of a spear and a shield. Respect was also strong in the Maasai, respect for others and respect in particular for ones elders, as well as respect for the land and other living things.
---