Earlier Initiatives for Polio around Rotary Clubs in the Thames Valley
see what we've done over the last few years to maintain the profile of the Polio Campaign
see what we've done over the last few years to maintain the profile of the Polio Campaign

In this Pounds for Polio initiative by John Greening, 1090 District Governor 2013-14, the fundamental aim was to persuade every Rotarian to ask one person for a pound per day, for 100 days i.e. to raise £100 each, between 1st July and 23rd October. To maximise the amount raised for Polio eradication, the choice of how funds were raised - individually or by entire clubs - was left open.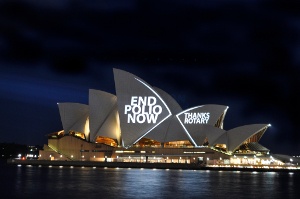 The Rotary Foundation sponsored two prizes, each of two registrations to the Rotary Convention in Sydney 2014. The prizes were awarded to the District registering the largest amount donated by individual Rotarians to the polio campaign during the course of this initiative and also to the individual Rotarian who registers the largest amount raised. District 1090 registered the largest amount raised!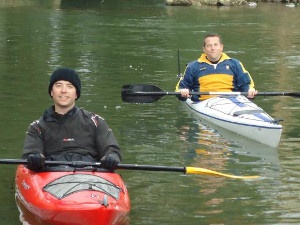 In June 2013 Richard Stabbins and Guy Wilkins completed a 150 canoe challenge from Cricklade to Westminster for the End Polio Now campaign. Richard is the son of Adrian Stabbins, President of the Windsor and Eton Rotary Club in that year. He was inspired by the work of End Polio Now and in particular by his parents, Adrian and Veronica, who had attended four National Immunisation Days in India. The previous year Richard raised almost £6,000 by completing the London Marathon.
Watch Richard's video to see what motivated him to set up this challenge.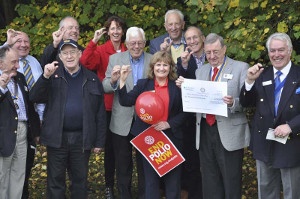 To mark World Polio Day on 24 October 2012, District Governor Judith Diment, a leading International Advocate for End Polio Now traveled the length and breadth of District 1090 on a Sponsored Driveathon. Meeting with club representatives at 12 appointed venues to share their efforts to End Polio Now and raise public awareness of the campaign to rid the world of this crippling disease, £12,250 was collected.
Additional collections were made on Saturday 27 in Wallingford and at the London Irish v Harlequins rugby game at the Madejski Stadium in Reading on the Sunday, bringing the total raised to over £15,000.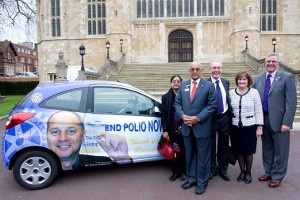 In 2011/12 District Govenor Niall Blair drove everywhere in the Poliomobile. With the help of Sir Steve Redgrave, this particularly distinctive car took Niall on a tour of events run by clubs across the district as well as to his regular duties.
Niall also encouraged clubs to take part in the Biggest BBQ on 7th August. All Rotarians around the District were given a bottle of Rotary Tomato Ketchup, courtesy of Wilkin & Son of Tiptree. The intention was to consume the contents - at a bbq of course - and to then fill the bottle with coins to raise funds for End Polio Now.
Contact Tim Cowling about this page: