Celebrate with us at the 2017 Rotary International Convention in Atlanta, Georgia, USA, 10-14 June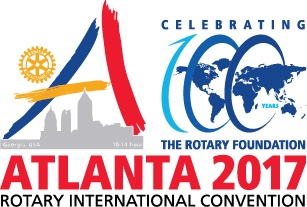 You're invited to Celebrate with Us at the
2017 Rotary International Convention in Atlanta, Georgia, USA,
10-14 June
Rotary Foundation marks 100 years of doing good in the world.
Please make certain your club is part of this momentous occasion!
This extra-special, once-in-a-lifetime convention is one not to be missed,
and with your help, we aim to attract a record number of Rotarians
from around the world to celebrate the centennial while experiencing the best of Rotary
Register before 15 December
to take advantage of early registration savings
All information re the Convention can be found at www.riconvention.org.