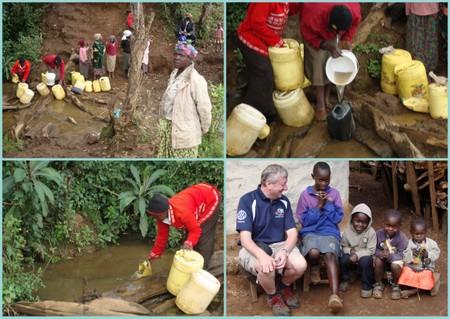 H20 is District 1160 Water Project for 2017 -2018
More than one billion people across the globe do not have access to safe clean drinking water - millions of them in Africa.
The absence of water has far reaching effects - on health and well-being, on the time and energy that must be spent on gathering and transporting water, and on the ability of rural poor households to irrigate their crops, and provide water to their livestock.
Gorta-Self Help Africa will work with Rotary in Ireland on a programme to provide improved access to water for thousands of households in Keringet, a drought affected area in the far north of Kenya's Rift Valley Province.
The partnership, over three years will see Rotarians invest up to $300,000 in a range of water development activities that will be carried out by Gorta-Self Help Africa alongside existing agricultural development activities in the region.
The wide ranging programme of activities are being designed both to provide local schools and people with access to clean and safe drinking water, to provide water for irrigation and livestock, and to prevent contamination of water sources.
Over a three year period, support from Rotary Clubs members will enable Gorta - Self Help Africa to :
• Construct bore-holes
• Rehabilitate existing water points
• Install rain-water harvesting systems
• Provide water point maintenance training
• Promote better sanitation, and thus reduce water contamination
Rotarians across the globe, and their commitment to support Gorta-
Self Help Africa's Keringet Project is an example of that expression in action. Rotary members across Ireland will embark on this three-year strategic partnership with Gorta-Self Help Africa, and as a result will help to transform the lives of thousands of rural poor families in Kenya.
Through the Rotary Foundation funds raised by Rotarians in Ireland will be enhanced. It is estimated that the partnership will generate close to
$300,000 in the years ahead.
Several Rotarians from around Ireland travelled to Kenya, and have seen at first hand both the challenges affecting local people, and the solutions that their support can deliver in the coming years.
The backing of Rotarians continues a long tradition of Rotary Club support for clean and safe drinking water - as Rotarians across the globe have partnered with local development agencies to deliver safe, clean water for hundreds of thousands of poor and marginalised people around the globe.