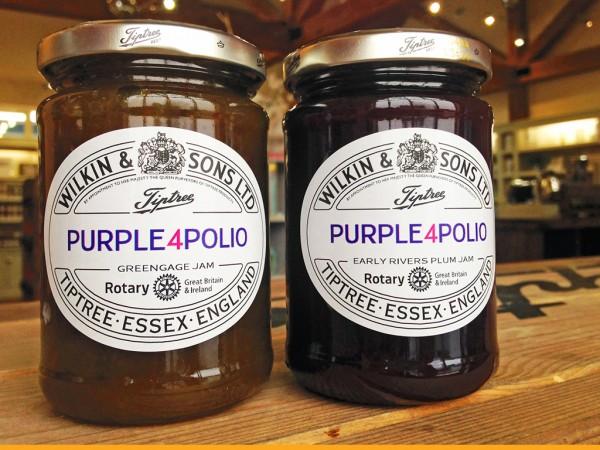 Clubs are invited to accept free jars of jam and to organise a tea party.
PURPLE4POLIO JAM - FOR EVERY CLUB!

RIBI has announced the donation of 52,000 jars of Purple4Polio jam by Wilkin & Sons Ltd (equivalent to at least one jar per Rotarian), thanks to a Rotarian in District 1240.
The aim for this initiative is to raise £1,000,000 for Purple4Polio (by donations for the jam of at least £2 per jar (worth at least £3 in store); using the jam for fund raising; and then filling the empty jar with money.
Click here to download a full briefing sheet from RIBI about the jam.
HOW TO GET YOUR JAM
In our DistrIct there will be deliveries of jam to Perth, Aberdeen and Inverness. There will also be special deliveries to East Sutherland, Thurso, Tain and Wick by kind courtesy of Rotarian Colin Chessor. There will be direct deliveries to the islands (confirmed)

Supplies of jam will delivered to the following locations.
Please go to your nearest location to collect your jam. BUT please wait until I notify you below that the jam has arrived.
PLEASE TAKE ONE JAR PER MEMBER OF YOUR CLUB

For Clubs in the south, delivery is expected on 22nd February. Go to:
Spectraglass Limited, Unit 2, Inveralmond Close, Inveralmond Ind Estate, Perth, PH1 3TT
Tel: 01738 638 358 | Fax: 01738 634 744
sandy.dow@spectraglass.com
This is the same location that you deliver shoeboxes to.
Ask for Gordon Dow or Sandy Dow, both Rotarians.

For Clubs in the Aberdeen area, YOUR JAM HAS ARRIVED: Go to:
CHAP Construction - ask for Ian Morrison, Storeman.
Enterprise Drive, Westhill Industrial Estate, Westhill, Aberdeenshire, AB32 6TQ
Tel: 01224 748517 or 07747 561591.
jyoung@chap.co.uk
Jim Young (Rotarian) is a Director of the company.

For Clubs in the Inverness area, delivery is expected on 3rd March. Go to:
Waterside Hotel
19 Ness Bank, Inverness, IV2 4SF
Tel: 01463 233065
Fax: 01463 241075
info@thewatersideinverness.co.uk

East Sutherland, Thurso, Tain and Wick. Your jam will be delivered to you by Rotarian Colin Chessor, after 3rd March.

There will be direct deliveries to the four island Clubs, expected on 23rd February.

PURPLE4POLIO TEA PARTIES

RIBI is planning a Purple4Polio Tea Party is on International Women's Day (IWD) on Wednesday, 8th March, 2017, using the jam.
The President of RIBI suggets that, at the quintessential British time of 4pm on 8th March, Rotary Purple4Polio tea parties could take place all over Britain & Ireland with the support of both Wilkin & Sons (Tiptree Jam) and Typhoo Tea (whose CEO is a Rotarian).
It is also fine to have a tea party at a later date if that suits your Club.
Janet Lowe, End Polio Now Officer.