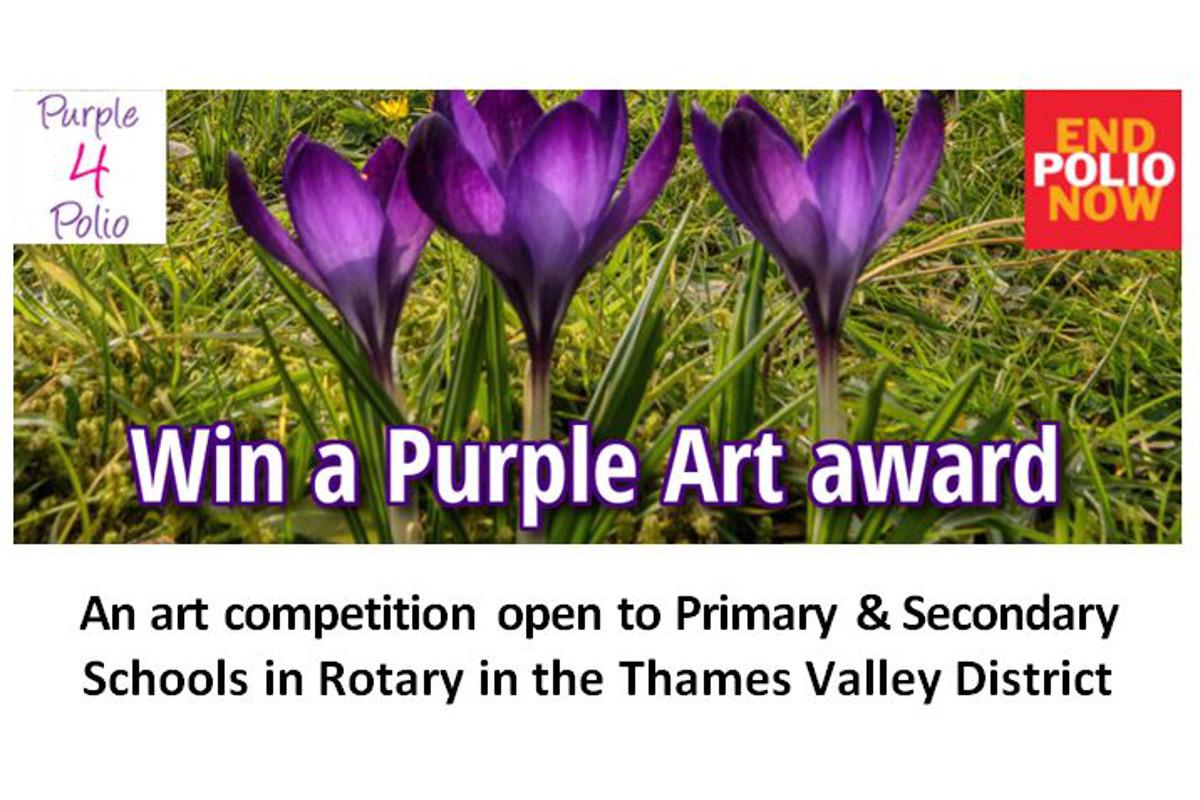 An art competition open to primary and secondary schools in Rotary in the Thames Valley District
return to the Foundation homepage
We are pleased to announce an Art Competition to accompany the crocuses that many Rotary clubs, Interact clubs, Rotakids clubs, schools and community groups planted before Christmas.
Many schools have helped Rotary Clubs to plant thousands of purple crocuses across our district in the last few months. Pupils are now invited to create a peice of artwork related to Rotary's Purple4Polio campaign.

Help us to remind everyone that we have almost eradicated polio from the world.
Deadline for entries to be received by your local Rotary Club is Friday 19th May 2017.
Cash prizes for schools and certificates for the winning artists.
Download a poster and info sheet - Word document or PDF.

A few more details (as on the above downloadable info sheet)
Entry form:
Please attach an entry form to each piece of art work
Size:
Up to A3 size, on card or paper
Medium:
Any – paint, crayon, pencil, collage
Age categories:
Category 1 = Primary Schools Category 2 = Secondary Schools
Closing date (to submit to your local Rotary Club):
Friday 19th May 2017. The results will be announced by 12th June. Three judges, chaired by the Rotary District Governor, will decide and their decision will be final. Presentations will be arranged to suit.
Rotary Clubs should contact Bill Carss (details below) to arrange collection/delivery for judging.
Prizes:
Each category will have three prizes; 1st prize £50.00; 2nd prize £30.00 and 3rd prize £20.00. Prizes are payable to the pupils' schools. The school(s) and winning pupil(s) shall decide how best to use the prize-money and will notify their Rotary Club accordingly. All prize winners will receive a certificate signed by the Rotary District Governor.
Rotary District reserves the right to use any competition entries in any way it sees fit including reproduction of the artwork and associated photographs on any Rotary websites and publicity material.
Any queries can be addressed to Woodstock & Kidlington Rotary Club who with District 1090 are organising this event. Contact: Bill Carss on billcarss2015@gmail.com
Contact Karen Eveleigh about this page: