Primary Schools Quiz 2017 - The Final
Primary Schools Quiz 2017 - The Fin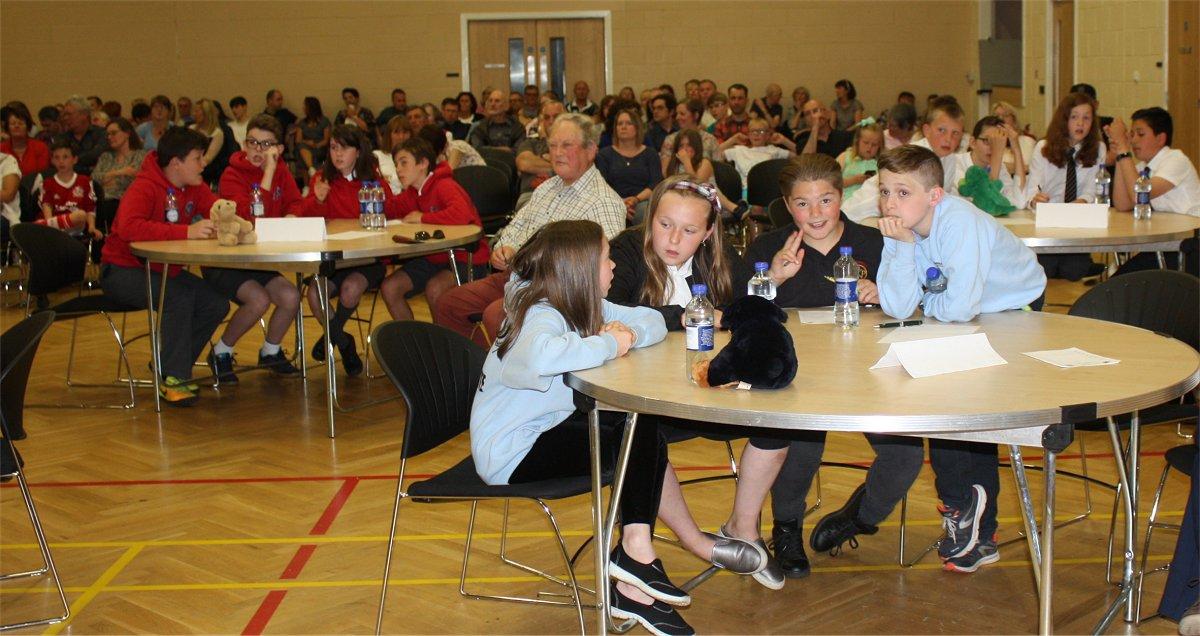 The District Final of the Primary Schools Quiz took place today (3rd June) in the Lifestyles Centre in Carluke. Thirteen teams attended along with a very large "travelling support" with 50 Youngsters competing and well over 150 supporting parents, other relatives, teachers and rotarians present too.
To get this far, each team will have won a Club Heat from some of the 250 Schools who took part in over 40 Club Heats. They will then have been the winner or runner up in one of the 6 Area Heats with about 40 teams taking part in those. All in all, some 1000 youngsters will have taken part in the quiz this year, hopefully enjoyed the experience and maybe learned a bit about Rotary in the process. With teachers, parents and others supporting the pupils at these events, we should now have an increasing awareness of Rotary in many schools and homes which can only be to the long term good.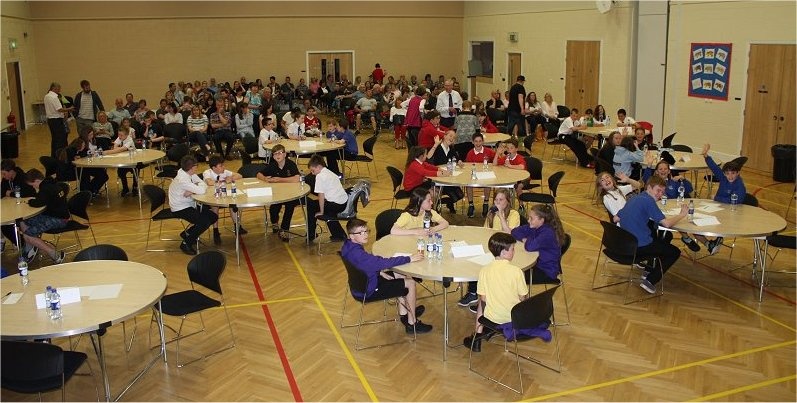 2 teams from each of District 1020's 6 Areas were invited to the District final, and 13 teams (work that one out then) made it to Carluke to fight it out as to who would be the eventual PSQ Champions for 2017.
In a closely fought competition, the lead changed a couple of times with Priorsford setting the early pace, but before midway in the competition, strong performances in "Expressive Arts" then "Science & Technology" saw Pentland and Dean Park edge ahead of the field to take a joint lead. At the end of Round 7, these 2 schools were still tied at 34.5 each. It looked as if we might be headed for a tie break situation, but Pentland held their nerve and with 6 / 6 in the final Round (Pot Luck) edged ahead of their nearest rivals, Dean Park, to claim the Trophy.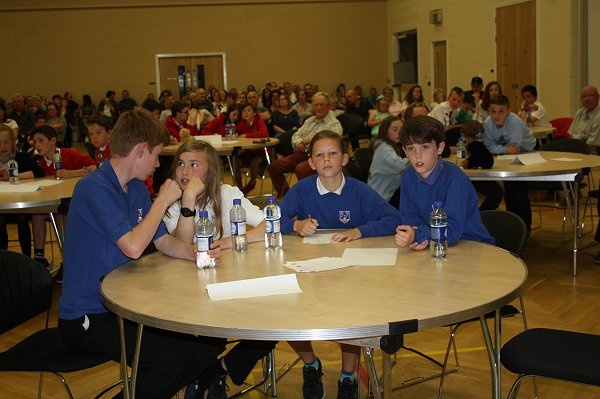 The youngsters taking part were a credit to themselves, their Schools and teachers, their parents or carers. Every single one of the teams did very well, entering into the spirit of the event, enjoying the occasion but also being quite serious in their efforts to do well.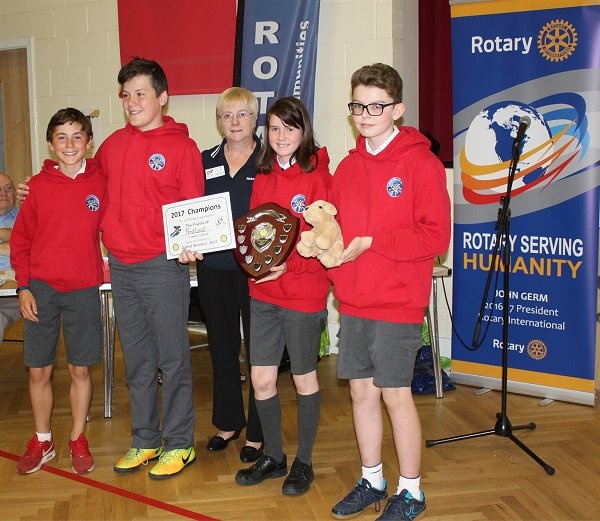 D.G. Olive Geddes with the members of the Winning Team – Pentland Primary School, entered by R.C. of Braids in the City Area.
Thanks are due to the Carluke Lifestyles Staff, for their assistance during the day and also to the many rotarians who pitched in to supervise teams, help with the scoring, as well as raiding the local supermarket for refreshments for the youngsters taking part.
For the rest of the competition, I'd like to say "Thank you so much" to all the Clubs and their organisers for the first round of Club Heats, and then a very big "Thank you" to the 6 Area Organisers for their efforts. Most of all though, it has to be "well done indeed" to all the pupils who took part at any stage of the competition, along with the many parents, teachers and Rotarians who supported them. I hope you enjoyed the experience and that you would like to go through it all again next year.

Jim