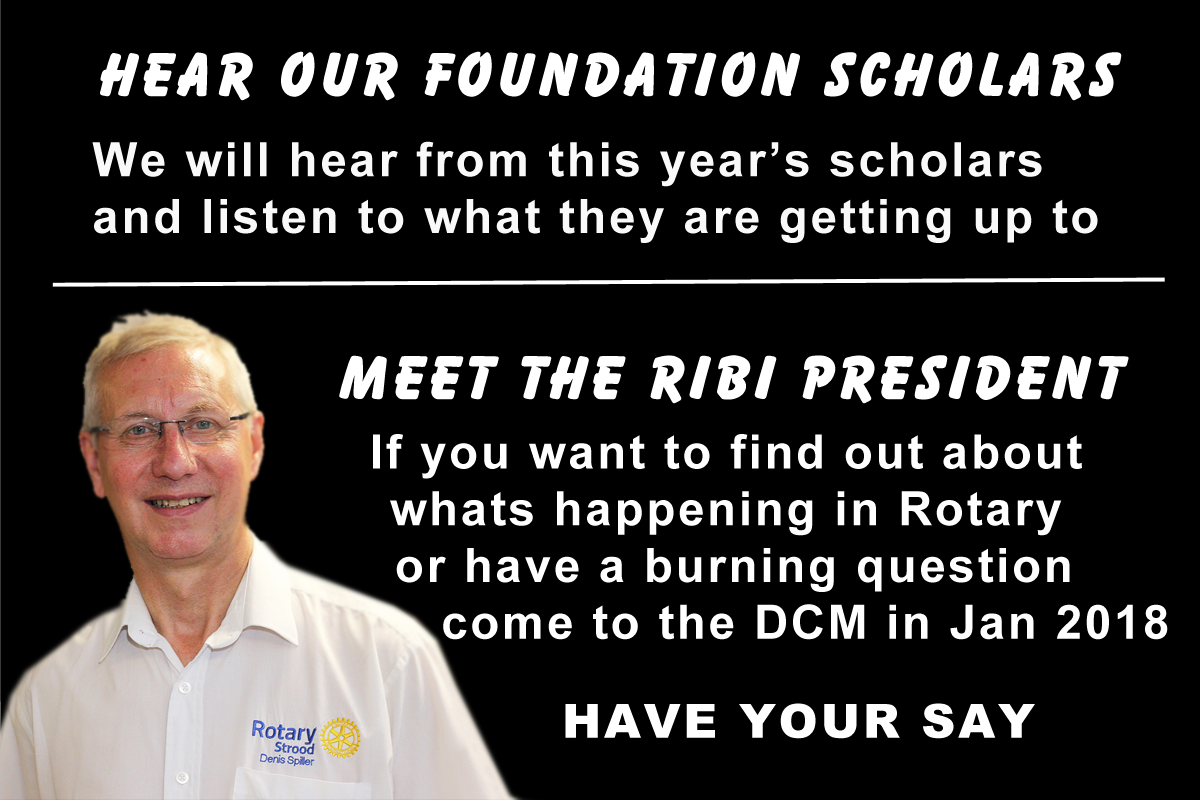 Hear, Discuss and Decide about District Matters
DISTRICT COUNCIL MEETING

Wednesday 17 January 2018
The Park Hotel, 29 Denmark Street, Diss, Norfolk, IP22 4LE
Pre-booked dinner served from 6pm (£14), meeting starts 7.30pm

Registrations should be made through your club secretary, who will notify
the District Secretary; PDG Tom Griffin

AGENDA
1. Sergeant-at-Arms
2. District Governor Robert Lovick opens the meeting
3. Acknowledgements, apologies and notice of non-responding clubs
4. In memoriam
5. Minutes of the District Council Meeting on 21 October 2017
6. Matters arising from the minutes not covered in the agenda
7. Foundation Scholars
8. Report by District Governor Robert Lovick
9. Denis Spiller, President RIBI
10. Report by District Secretary Tom Griffin
a. Election timetable
11. Report by District Treasurer Peter Small
a. Accounts to 30 June 2017
12. Report by District Governor Elect David Simpson
13. District Committees:
a. Marketing & PR
b. Membership
c. International
i. Motion: That District Council approves the application of surplus funds from the District's reserves to support recovery projects in the British Caribbean territories devastated by Hurricanes Irma and Maria
14. TRF Major Donor Presentation
15. Any Other Business
16. Sergeant-at-Arms
17. Date of the next District Council Meeting – Wednesday 28 March 2018
This notice is served in accordance with the District Standing Orders. The District Governor requests that 24 hours' notice be given to him or the District Secretary of any item or motion to be brought before the Council under Any Other Business.