Pooches in the Park
A dog walking foray around Bishop Auckland Castle Park. A bring a "DOG" party!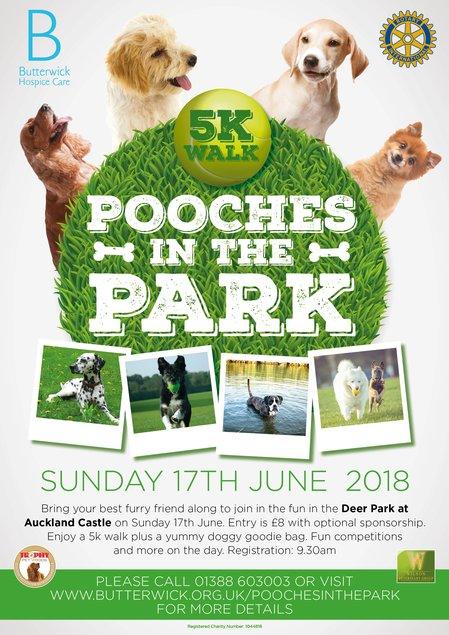 Calling Dads, Doggies and Everyone else!
We've teamed up with Butterwick Hospice for a morning of canine fun and frolics in the splendid setting of Auckland Castle, kind permission of The Auckland Project.
Dog agility area, cutest dog competition, dog/owner lookalike contest, pet sketches, a choice of dog walks in the historic Deer Park, rewards, refreshments and much more, with all proceeds to the Hospice.
To join in the fun, just go to:

https://www.butterwick.org.uk/events/poochesinthepark/
Entry is £8 per pooch with optional sponsorship!
We welcome 'School of Dogs' with their agility course for displays and for your pooches to 'have a go'.
There will be competitions on the day, along with a goodie bag for your pooch!!
Registration is from 9.30am, activities will start from 10am.
From 10am there will be a variety of agility classes running throughout the morning, along with small competitions, which your pooch can be entered into. The mornings running schedule is as follows:
10AM - Prettiest Pooch
10.15AM – Handsome Hound
10.30AM – Best Rescue
10.45AM – Best Pedigree
11AM – Daddy and Doggy look-a-like
11.15AM – A little thank you for everyone who took part
11.30AM – Dave Thomas to open the 5k route
Please note that each competition is £1 entry and if your pooch comes in 1st, 2nd or 3rd, they will receive a rosette - sponsored by the Feed Warehouse.
We also have stalls, catering and even a pooches selfie booth on the day so make sure you arrive on time to experience everything with us.
The walk be be officially opened by Dave Thomas - former England Football Player and his guide dog.
Thank you to Trophy Pet Foods, Bishop Auckland Town Council and Wilson's Vets for kindly sponsoring the event.
Contact Nigel Bell about this page: