The Rotary Club of Alloa are proud to be the main sponsor of this years Hillfoots RFC's Touch Rugby Tournament in aid of Prostate Scotland. It would be great if you could encourage your local Rugby Club to send a team to take part.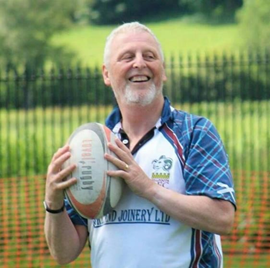 Hi – the guy in the photo is my dad, Alistair Spowage, and this is his 42nd season as a member of Hillfoots RFC. A couple of years ago he'd hoped to mark his 40th by getting involved in the club's touch rugby tournament in the close season, but before that could happen, he discovered that the aches and pains he had been suffering were actually a result of him having advanced prostate cancer.
But anyone who knows my dad will know he's not the type of guy to take these things lying down. His attitude from day one has been to keep positive and keep active. And he's inspired us to help a great charity, Prostate Scotland, to help people like him. And you may very likely know someone close to you who's in a similar situation?
With the help of NHS Scotland dad is making good progress towards kicking his cancer into touch, or at least giving it a good hand-off! He was even able to play a bit in last year's touch tournament. And we're now inviting you and your club to come along to Tillicoultry on Saturday 9th June to get involved in this year's tournament – either as a player or a spectator – and lend your support to Prostate Scotland.
Overleaf are details of what I'm sure will be an enjoyable event, and I hope to see you there basking in sun, fun and friendship in the Park.
Cheers! Gavin

When is it?
Saturday 9th June 2018, first ties at 1pm
What is it?
We're inviting your club to provide at least one team of 10 to take part in this touch rugby tournament, hosted by Hillfoots RFC in Tillicoultry. We'll be raising money for Prostate Scotland and we'd love it if you guys could be involved.
It will be normal touch rugby rules with the added rule that each team must have at least one female player playing at all times. We'll organise the tournament so every team gets plenty of games throughout the afternoon. There will be a bar and a BBQ to ensure everyone is well fed and watered.
The entry fee for the tournament is £15 per person. For this fee you will get a beer, a burger and entry to the evening Shorts n Shades party in the clubhouse. This year's hooley will be hosted by local band and friends of the club: Grand Slam and also DJ Ewen Duncan from Europa Music. The Shorts n Shades party will start immediately after the touch tourney is concluded.
Why are we doing it?
Most of us know, or will know, someone affected by prostate cancer or other prostate problems. We're delighted to be hosting this tournament to raise funds for Prostate Scotland and to raise awareness of the conditions. All profits will be donated to Prostate Scotland. It will also be a cracking day of rugby with friends old and new!
What do I do next?
We'd like a deposit of £50 per team to secure your place and the balance can be paid on the day. To enter, please visit www.hillfootsrfc.com/touchand fill out the registration form. If you have any other questions, please email Derek at secretary@hillfootsrfc.com.
Contact Alistair Spowage about this page: