Harry Rankin Rotary Fly Fishing Report June 2018
The first leg of the Harry Rankin Fly Fishing Competition for all Scottish Rotary Clubs took place on the Lake of Menteith on Monday 4th June attended by 22 anglers from eleven clubs drawn from Districts 1010, 1020 and 1230.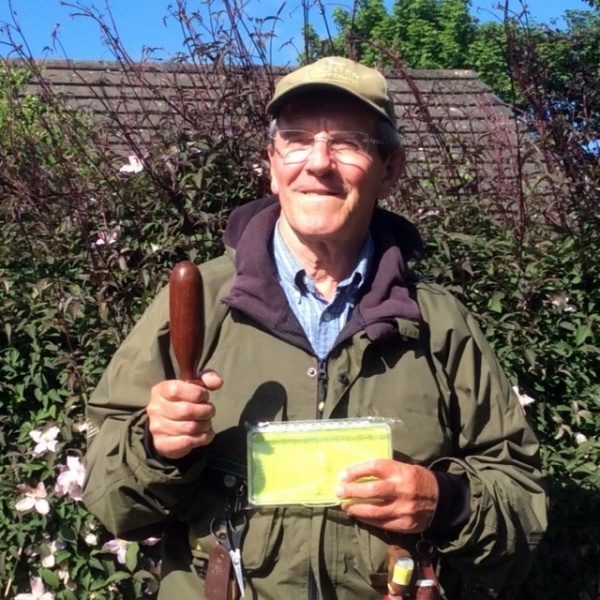 The conditions were good, overcast, dry, a gentle wind, but the water temperature was more suitable for swimming than trout fishing, well that's my excuse anyway. Rotarians had travelled from as far afield as Dumfries and Jedburgh in the south to Elgin and Inverurie in the north Seven members were skilled enough to catch fish, with Howard Hughes from Inverurie being the winner of the first leg with a magnificent catch of nine fish, followed very closely by Steve Mannion from Perth Rotary Club with eight rainbow trout. The heaviest fish of the day was caught by John Middleton from Shotts and Dist. Rotary Club (Dist. 1230) with a magnificent 4-pound beauty. The prizes were handed out by Malcolm Cordwell-Smith before the evening meal at the Lion & Unicorn, Thornhill when stories of the one that got away were retold in the hour of good fellowship.
The photograph shows Howard Hughes (Inverurie) holding his hand made priest trophy along with a new fly box.
Any Rotarian wishing to add their name to the fishing mailing list please contact Robin Sutton at robinasutton@outlook.com and we will all be very pleased to see you on September 3rd, 2018 or June 2019
Robin Sutton
Rotary Club of Stirling