Rotary International District 1180

Please give a warm welcome to the New Zealand GSE Team from District 9910 who are visiting us from 2nd May to 5th June 2008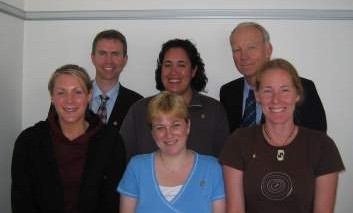 Matt, Trace, Dave, Bex, Jo, Chris
D9910 (New Zealand) GSE Team to D1180
Team Leader:
 Dave McCluggage is the owner and managing director of Alpha Security Services which offers its services in Whangarei City and the northern regions of New Zealand. David is married to Cherry and lives in Whangarei, and is a member and President Elect of the Whangarei South Rotary Club. He is an amateur radio operator and has an abiding interest in community safety through his membership of Northland Land Search and Rescue, and Amateur Radio Communications. Email: rotary.infobook@xtra.co.nz
Team Members:
Rebecca Baskett is 25 years old, single and is a university qualified dietician working at the North Shore Hospital (Auckland City). She currently specialises in Bariatrics (weight loss surgery) and is looking forward to the opportunity to gain insight into the practice of Dietetics in District 1180. She is sponsored by the Rotary Club of Takapuna North.
Matthew Trubshaw is 38 years old, is married to Jill and has three sons. He is a database/analyst with the Whangarei District Council, having graduated BA from Waikato University. He takes an active interest in community affairs, is a lunchtime participant with Toastmasters, and is excited by the prospect of learning as much as he can from the exchange both personally and professionally. Matt is sponsored by the Rotary Club of Whangarei.
Joanne Field is 36 years old and is married to Andrew and has two young children. She graduated BA(Hons) in 1998 and is currently the Regional Strategic Planner at the government Work & Income agency. She is looking forward to learning about how another country deals with the social challenges of society and particularly the strategic organisational aspect of welfare systems across various agencies. Jo is sponsored by the Rotary Club of Whangarei.
Tracey Wihongi is 30 years old, is single and is a Registered Nurse currently working for Ngati Hine Health Trust in Kawakawa, Northland. She has a strong commitment to her community and is dedicated to maintaining a safe and nurturing haven for the children who form tomorrow's society. The exchange is an opportunity to experience a different culture and community pathways which may benefit her home community. Tracey is sponsored by the Rotary Club of Kaikohe.
Christian Macdonald is 34 years old, single and has two sons. She has qualifications in Catering, and Tourism, but her passion is working as a Ranger for the Department of Conservation. She currently has area responsibility for huts tracks and camping ground facilities. She anticipates a huge benefit to her community as well as her future career development, to learn as much as she can about conservation works and practices in North Wales and England as well as from cultural exchanges. Christian is sponsored by the Rotary Club of Maungaturoto & Districts.