Gardeners' Question Time
Everyone Welcome. No usual Club Meeting. Note change in Location and NO meal will be provided. Price £10 to include welcome drink. A panel of four experts will answer questions supplied by the audience. See "Event Details" for more informati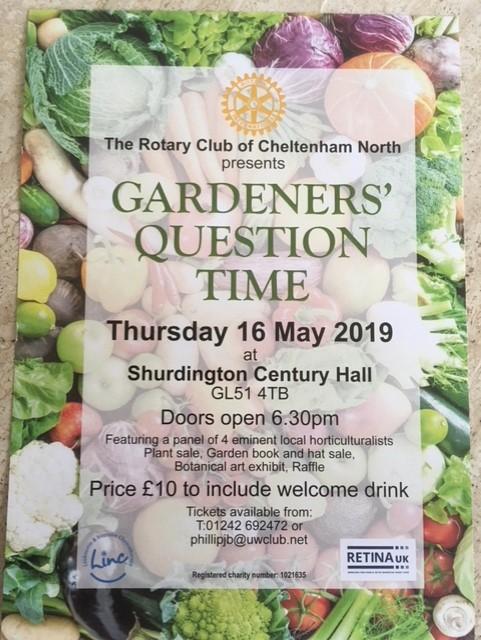 Gardener's Question Time
Thursday, May 16 at Shurdington Century Hall, Shurdington Cheltenham. GL51 4TB
Everyone welcome
Doors open 6.30 p.m.
The event includes;
Plant sale.
Garden books and Hat sale.
Botanical Art Exhibit.
If members are able to provide items for the above please contact Beth
There will also be a Raffle.
The entrance price is £10 per person to include a welcome drink.
Tickets available from:
Tel. 01242 692472
Our panel of experts will be :-
Duncan Coombs- retired lecturer at Warwickshire Horticultural College, Pershore.
Chris Evans -The Butterfly Garden,
Churchdown
Julie Ritchie - Hoo House Nursery, Tewkesbury
Jim Teague- Horticulturalist, Ashton under Hill.
Proceeds from the event will go towards Rotary Charities
Contact Beth Phillip about this page: