Rotary International District 1040

Home | Young Chef | District Young Chef Final 2009
The 1040 District final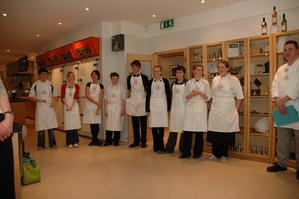 Building on last year's first district final Bettys of Harrogate kindly sponsored the district final held on Monday 19th January and invited the 9 club sponsored winners to their prestigious cookery school headquarters in Harrogate.
The  Bettys judges from the cookery school  were Richard Jones and Amy Callin
The sponsoring Rotary clubs involved were;  Halifax, Northallerton Mowbray, Leeds, York  (3 York clubs event winner), Bingley, Knaresborough, Bradford West, Helmsley, Dales Group.
District  Governor John Philip and youth opportunities district project officer Chris Bown presented prizes  of sets of chopping boards and personalised certificates to all the contestants with the winner additionally receiving a beautiful contemporary engraved glass Rotary trophy and a hardback Bettys cookery book.  All the nine candidates were given a  Bettys cookery apron by the hosts.
Hospitality was provided for Rotarians, parents of the contestants and some of their school teachers who had time to enjoy good fellowship whilst the cooking was in progress.
The skill level of all the contestants was remarked upon by the judges who had the difficult decision to select a winner and a runner up. Their decision was ;-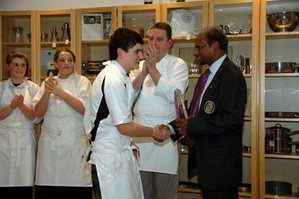 The District winner  was James  Hutchinson, sponsored by the Rotary club of Skipton  Craven, who was the local competition  winner from the Dales group of Rotary clubs young chef event.
His winning 3 course menu 
Smoked Kilnsey trout salad with spicy beetroot
Bolton Abbey mutton with curly kale , parsnip puree & rosemary sauce
Yorkshire apple crumble with creme anglaise
The runner up was  Jason Curria  sponsored by the Rotary club of Northallerton Mowbray
James and Jason will  represent district 1040 in the regional finals in Mexborough in March hosted by 1270
The RIBI National final for Rotary young chef will be held on  Saturday 2nd May in Hitchin hosted by  1260
Click on More Photos to see them in Image Galleries
For further details please contact
Project officer Mrs. Chris Bown ( Rotary club of Haworth & Worth Valley)  chrisbown2102@btinternet.com