Rotary International District 1040

 The RYLA 2008 awardees have been systematically returning to their sponsoring Rotary clubs to give a presentation to the members of their personal experiences on the RYLA course which is designed to gives them a range of leadership skills. 
Club Presidents are asked to sign the awardee's RYLA certificate and the picture  P 1060287 shows Settle club President Sandy Tod signing the certificates for Sarah Richardson (left) and Rachel Hulatt (right) both were sponsored by Settle Rotary club.
The two RYLA awardees proudly display their presentation certificate for the successful completion of the RYLA course 
The event in Settle was attended by course mentors Gill Poole (Mirfield) and Tony Jordan (Thirsk) who were given the opportunity to explain to the members the role of a RYLA course mentor within the staff framework on each week of RYLA.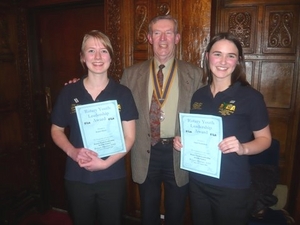 In the second picture  P1060289  Rachel (left) Sandy (centre) and Sarah (right) as viewed