Raise the Bar - Social Media and Template Website Seminar
20th Oct - Public Image seminar at Royal London in Wilmslow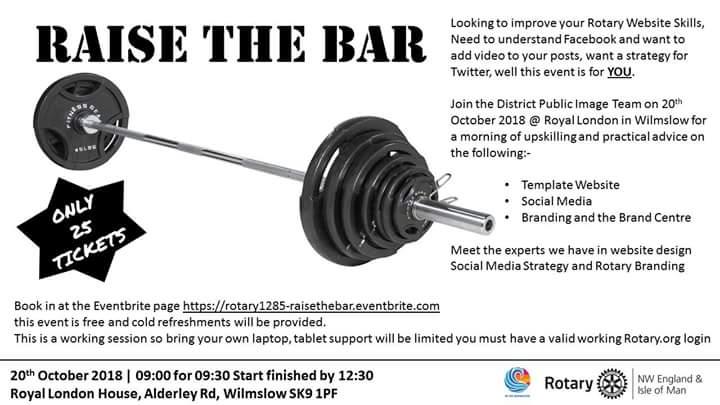 20th Oct - Public Image seminar at Royal London in Wilmslow
Aim of event is to upskill key club public image members inbranding, social media and web.
Looking to improve your Rotary Website Skills, Need to understand Facebook and want to add video to your posts, want a strategy for Twitter, well this event is for YOU.
Join the District Public Image Team on 20th October 2018 @ Royal London in Wilmslow for a morning of upskilling and practical advice on the following:-
• Template Website
• Social Media
• Branding and the Brand Centre
Meeting the experts have in website design Social Media Strategy and Rotary Branding
Book in at the eventbrite page the event is free and cold refreshments will be provided.
This is a working session so bring your own laptop, tablet support will be limited you must have a valid working Rotary.org login
20th October 2018 | 09:00 for 09:30 Start finished by 12:30
Royal London House, Alderley Rd, Wilmslow SK9 1PF