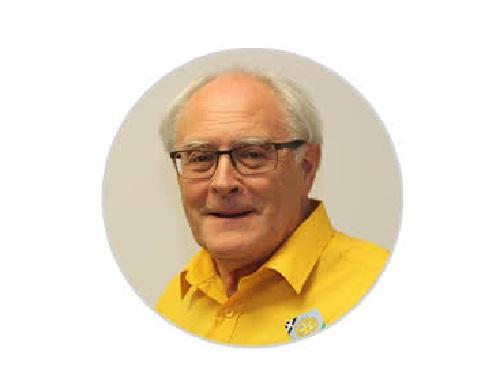 Meal at Girton Golf Club & Talk. Speaker Host - Burman, Cashier - Vicky B.
Today we are delighted welcome Rotary International Director Brian Stoyel to our Club meeting.
OPEN TO ALL D1080 Rotarians and their guests £17 a head
JOIN US - Book in with Vicky and hear what Brian has to say from an up-to-date Rotary International perspective and hear what his Rotarian travels have included. victoria.h.burman@gmail.com 01842 828891
www.rotary.org/en/about-rotary/our-leaders/directors
The Girton Golf Club is a great venue - ample parking and good access.
Meet in the Bar area.
MENU
Chicken in Mushroom, tarragon and White Wine sauce
OR Mushroom Lasagne
with Roasted baby new potatoes and a medley of vegetables
Followed by Rhubarb & Apple Crumble with Custard.
Coffee / Tea with Mints.
BIOG - Director 2017-19 (One of 20 RI Directors from across the World)
Member of the Rotary Club of Saltash, Cornwall, England
Brian Stoyel qualified as a music teacher before he moved to a teaching post in Slough, then to Newbury as an independent school headmaster. He later established an education consultancy, providing guardianship for international students studying throughout the United Kingdom.
A Rotarian since 1981, Stoyel has served as President of Rotary International in Great Britain and Ireland [RIBI]. He also has served Rotary as RI president's representative, committee member and chair, and district governor. He is founder of 'Rotarians Eliminating Malaria in Tanzania' and 'Rotarians Eliminating Malaria: A Rotarian Action Group', and is a trustee of the Jaipur Limb project.
As District Governor, he coordinated a project to improve facilities at a remote Gambian village school. He has organized Rotaract projects in Romania, Tanzania, Ghana, Bulgaria, Uganda, Malawi, and Benin. Stoyel and his wife, Maxine, are multiple Paul Harris Fellows, Benefactors of The Rotary Foundation, Major Donors, and Bequest Society members.
Contact Vicky Burman about this page: