SANT'A'S HI-TECH SLEIGH TO TOUR MONIFIETH
Snow or no snow, Santa and his sleigh are going to be very busy in and around Monifieth as Christmas approaches.
Santa proudly shows off his new sleigh.

With the help of the Rotary Club of Monifieth and District a new sleigh suitable for the electronic age has been shined up and serviced. It made its debut at the town's Christmas tree lights switch-on celebration and appeared at the weekend to support the Rotary Christmas collection at Tesco in Monifieth.

Now Santa is preparing to take his sleigh out and about between 6pm and 8pm on various dates and locations around town. On Thursday, December 13, it will be in the Ferry Road area: on Friday, the 14th, the Ashludie area: Sunday, December 16 - Broomhill Drive area: Thursday, December 20 - Grange Road area.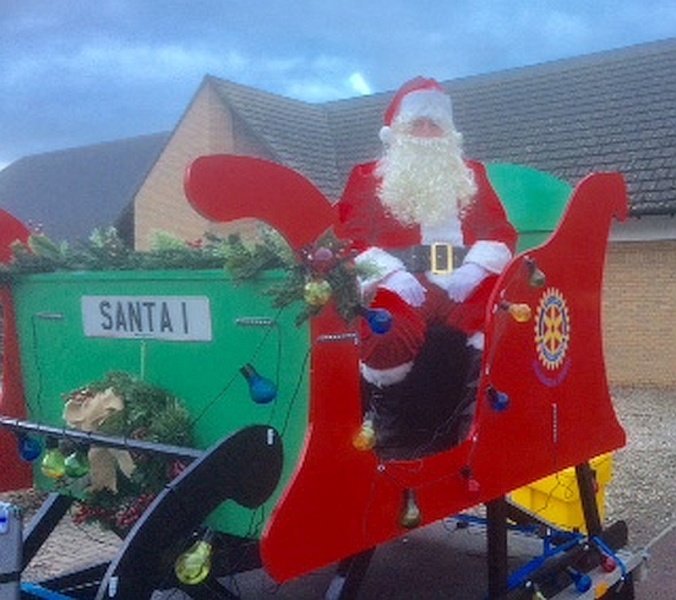 Thanks to the wonders of the digital age, excited children and parents will not just have to listen for the music and bells on these evenings but will be able to follow Santa's progress by using Sleightracker online.....http://www.sleightracker.co.uk.

Derrick Lang, the Rotary Club's community convener, said: "We are delighted to add to the excitement of the build-up to Christmas. We hope loads of children will come out to see Santa Claus and his spectacular sleigh."

"Rotarians will be collecting for various charities which we hope will help individuals and families at home and abroad for whom Christmas may not be as great a time as for the rest of us, either through illness or other pressures. It is a time for giving as well as receiving."

"Listen for the music, watch for the lights....and keep tracking!"