Rotary International District 1150

Home | Knysna Project Conclusion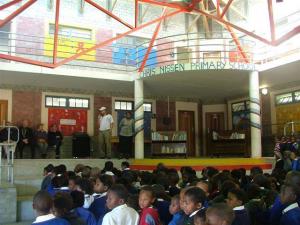 The RC of Cowbridge has just sent off to Rotary Foundation the final report on our collaborative project with the Rotary Club of Knysna in South Africa.
The project objective was to assist in the upgrading of the education available at two local schools in poor areas with no financial support from parents and totally inadequate help from the State.
The project totaled 21440 Rand in contributions from the two clubs involved and the matching grant.
The project took place in Tembalitsha Primary School and The Chris Nissan Primary School which both have an ongoing association with the Knysna Rotary Club. The project lasted over 15 months as the staff at one of the recipient schools changed their minds about the computers they had requested and after much delay asked for a public address system. Added to this, the company which then received the contract for the public address system took an inordinate length of time to purchase and install the equipment. The beneficiaries were both the pupils and the staff of the 2 schools.
A secondhand piano was bought for Tembalitsha Primary School and the children can now dance and sing with appropriate musical accompaniment. R5000 has been spent on much needed library books which are providing the children, and their teachers, with a broader understanding of many areas of study.
The Chris Nissan Primary School has received a Public Address system with two major benefits: in the assembly venue with its totally inadequate acoustics all pupils can now hear the proceedings and equally important, children will be able to improve their self-image and language skills as they take turns reading to the daily assembly and learn to project their voices. The children come from homes where one of 3 different home languages is spoken and many parents are illiterate.
The impact of this project was considerable. In Tembalitsha there was great excitement as many of the children had not seen or touched a'real' piano before. The teachers were particularly appreciative as this expression of support by Rotary was the first they had experienced. At the presentation of the piano the whole school assembled to sing and danced for the Rotarians present and the piano has been placed in a secure area to protect it from tampering. The reference books are available for use in the library. At Chris Nissan the sound system was installed and Rotarians attending the presentation of the equipment were entertained by young children proudly reading aloud into the microphone. The staff and pupils will unquestionably benefit now that the appalling acoustics have been satisfactorily improved