Rotary International District 1150

Home | Duffryn Interact Club Assembly.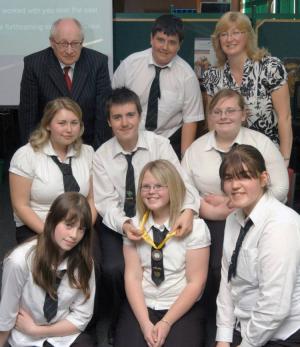 The Club's annual Assembly.
The Interact Club at Dyffryn School in Margam has just elected all new officers. In a contested competition for office, Laura Thomas was made the new President and is pictured here receiving the chain of office from outgoing President Rhys Coombs. Included in the picture are Rebecca Elward and Kim Tustin the new Vice Presidents, Rhianon Davies, Treasurer, Kate
Clavey, Secretary and Ceri Morgan, Publicity Officer. The club's parent body the Rotary Club of Port talbot was well reprsented at the Interact Assembly when the new officers were elected, and Rotary Club past President John Hussell and his law firm Jones Cameron Hussel and Howe, sponsor the event. Dyffryn teacher Christine Harris is also pictured.
The club has raised over £1,000 in the past year and supported the education and welfare of a street child in Brazil. Donations have been made to the local Muscular Dystrophy group, and to Rotary Charities. They've also received the presitgious High Sheriff Award.
Photo by Peter Knowles