Rotary International
District 1270

Home | Completed Events in 2009-2010:
More information may be available by clicking on the event name, where appropriate.
---
27/06/2010
Handover
At Alford Manor House from 11.30 onwards where you can enjoy a "Tastes of Lincolnshire" Buffet 26/06/2010
Brigg
-
Car Boot Sale at Sir John Nelthorpe School, Brigg
23/06/2010
Lincolnshire Show Promoting Rotary and providing valuable public services at the largest single event in District 1270 - full details to follow.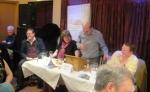 05/03/2010
Hull Paragon
-
Call my Bluff Wine Tasting
"Thank you for inviting me last night. I never thought I was going to enjoy not really drinking wine quite so much! It was a good night and a very enjoyable evening.
22/02/2010
Rotary Day - 23 February
The Day Founder Paul Harris started Rotary. In 2010 Rotarians throughout Great Britain and Ireland will out and about to raise funds for the final push to eradicate polio
16/01/2010
District Young Chef Competition
Annual competition where the successful winner represents D1270 at the Regional Competition.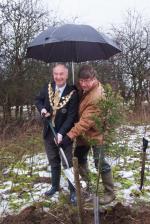 13/01/2010
RIBI President David's visit to D1270
RIBI President David visited Club meetings and projects and still found time to plant a tree (pictured) and launch RIBI's Appeal for ShelterBoxes for Haiti.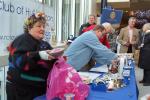 19/12/2009
Hull Paragon
- Present Wrapping in Princes Quay - West Arcade A successful day wrapping presents for people to put straight under the Christmas Tree - all funds going to projects with Wansbeck Primary
12/12/2009
Hull Paragon
- Christmas Present Wrapping in Princes Quay - West Arcade The first of 2 Saturdays wrapping shoppers' presents to go straight under the Christmas
01/11/2009
Membership Seminar
Held at Reeds Hotel, Far Ings Road, Barton on Humber DN18 5RG.

31/10/2009
Doncaster
-
Old Time Music Hall Concert
All the fun of Old Time Music Hall is returning to Doncaster on Saturday, 31st October, with a Charity Concert organised by local Rotary Clubs. 31/10/2009
Bill Huntley Memorial Peace Seminar
04/10/2009
Hull Paragon
-
Thunder Road starring Bill Ilkley
A special screening of John Godber's film to launch Nyanga 2010 Project at Vue Cinema, Princes Quay
25/09/2009
25th Annual Conference
All plenary sessions will take place in the Theatre at The Spa, Bridlington
19/09/2009
"Last Night of the Proms" featuring Humberside Police Band
13/09/2009
Round the World Clipper Race
The 8 Hull & East Riding Clubs are supporting the 15 Young Ambassadors taking part in this race which leaves Hull at 2pm.