Template site for Rotary Clubs in GB & I

Club home page;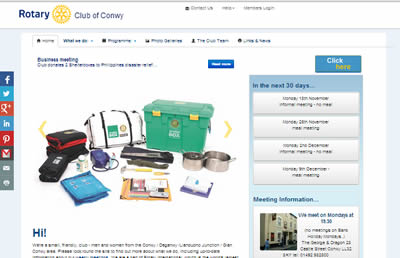 The home page is the most important. NOT because it is the page that people will go to automatically when they first visit your site (which it isn't), but because it is linked from EVERY page in your site and people are likely to go there as a second page if they found you via a search which took them to a sub-page. If the sub-page was interesting, they might see what else you have on offer – and the logical place to start is the page labelled 'home'.
The home page should be brief and not require much scrolling down (if any).
Many clubs (mine own included!) have a 'tourist' style page, featuring local attractions and places of interest. Given that most of your visitors are likely to be fairly local (the ones that might be considered as potential Rotarians, anyway) is this necessary? They are likely to know these attractions already. They may not know about what your club does! So feature stories about your successes, donations to organisations, fabulous events etc.
Keep the page updated regularly. At least once a month, in addition to the 'meeting details' information at the bottom of the home page, which changes weekly (if you've entered the information).
Weekly meeting information. If you do a write-up of the meeting, aim it at non-Rotarians. 'In' jokes, Rotary acronyms (GSE, RIPE, PETS etc) confuse many – and not only non-Rotarians! The meeting facility automatically creates an archive of what your club has done, year by year. Given that the meeting is the cornerstone of Rotary – it should be an accurate reflection of what happens in your club. Would you join a club that appeared boring?
Put photos that capture attention (yes, almost everybody hates the standard 'cheque presentation' photo – try to do one in a novel way if you must have one)
Pictures of presidents in regalia don't do much for the public image!
Put links direct to other pages, not write things like "click on the photo galleries link on the left, then select XYZ gallery". Also, don't name these links all as 'click here'. ("To see the photo galleries _click here_"). Most internet users already know that you click on links.
Other pages;
Most of the above points also apply to other pages.
You can afford to be more expansive on these pages, but they shouldn't be full of waffle – and they shouldn't contain reams of text.
Try to break long paragraphs into bullet points that are easily digestible – remember that the casual internet reader will click the back button within a couple of seconds if the page doesn't immediately grab attention or appears irrelevant.
Consider a 'locality' page – whilst it may not be of interest to locals, it will help with your search engine rankings. If you get someone to your site, you may keep them there with interesting pages.
Avoid 'Rotarians only' things like Charter Night photos – especially if it shows 'black tie' pictures; these are a turn-off for many and reinforce a false stereotype about Rotary only being for middle-class wealthy individuals.
That said, pages should reflect the wide range of activities in which your club is involved – these might be things that only involved members, but show what a good time members have doing the things they do! ("Oh I didn't realise that Rotary did things like that – I'd like to do that. Maybe I could join Rotary?")
Use pictures that are representative of your membership – which will hopefully cross generations, gender and race! Even if you have a club full of grey haired old men, try to include pictures showing involvement with different age groups. You aren't going to attract 25 yr-olds as potential members, but you might start to lower your average age a bit at a time
As a general rule: "Less is More"
Avoid using too many visual gimmicks on one page.
Having pictures, slideshows, videos and spinning roundels appearing all at once can be distracting.
By using links, useful videos etc can be accessed in a more digestible fashion and have more impact.