Template site for Rotary Clubs in GB & I

Search and Directories section
Nearly all the new features of the membership system are accessed through a single menu option which appears after you have logged in: Search and Directories menu. Clicking on this option will present a search form, shown below, which allows you to find members in a number of different ways. Once you have selected a suitable list of members you may then choose to produce reports, including handbooks, and print these if required.
Search
Searching for a record is done by filling in as many or as few of the search boxes as required. For example, filling a surname into the Name box will search for every second name in the database whilst filling a surname name into the Name box and then filling Exeter into the Club box will search all the records for any matches of that name and club. The more boxes you fill in, the more specific the search will be.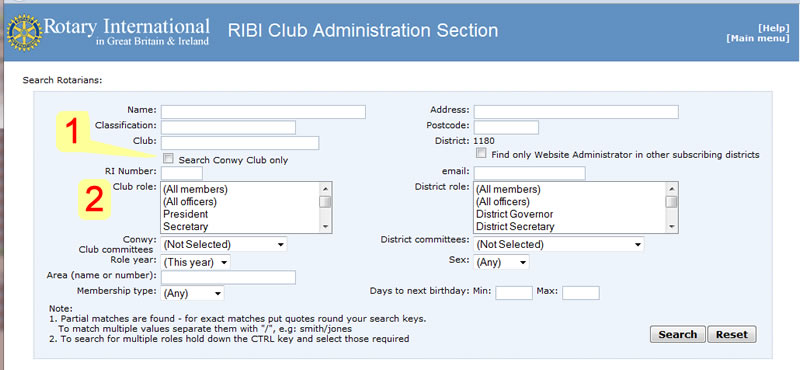 Tick the box (1) above to only search for your club. Leave the box UN-ticked to search across your district by club role - remember to click the 'search' button!
The results, below, have been blocked out. note the 'search club only' bix is ticked.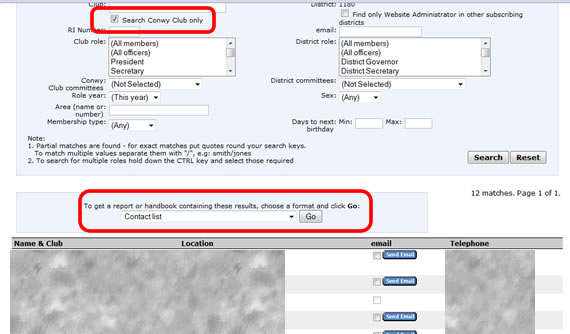 Now you have the results, you will want to do something wirth them (unless you just want a phone number!). Note the 2nd highlighted area above. Choose your report type from this list, then click 'go'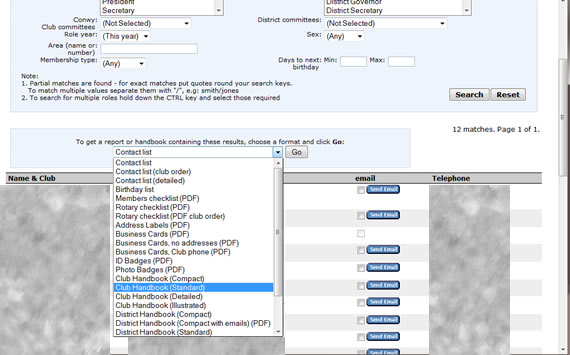 District Governors, Secretaries, Treasurers and Webmasters can also search for their counterparts in other Districts that are using the Membership Database Extension.
There are some things to note when searching:
Filling in an RI number overrides all other data; if you need to search for a user by their RI number, you only need to insert this into the RI box and no other search criteria
Be mindful of the Club Role and District Role boxes. If you select to search for District Secretaries in the District Role box, you will receive matches for those members who have District Secretary status and NOT Club Secretary status.
When a search is completed, you will also be presented with a drop down menu that allows you to present the data in different report styles. Please note that this option will create a report of the last search data (shown below this option). If you were to alter your search strings and then choose a report, this will only show the data from the last search. You will need to run the search again for the report to be based on your desired data.
If you start another search or report while the system is still in the process of a previous command, please note that it will attempt to complete the previous command before starting on the next one. This will increase the time it takes to display your desired results.
To search, fill in the boxes you require and then click on the Search button. This should display a list of records below the search box matching your search criteria, presented as the name and club of the individual, their city and postcode, and phone numbers. If you click on the postcode which is in bold then you will be presented with a map of where this postcode is. You can make the map bigger or smaller to see a wider area. You can also get directions between this postcode and another. There is also a Send E-Mail button that you can click to send an e-mail to any of those members. Clicking on this will cause a new window to pop up where you can type a subject line and text. The e-mail will come from your e-mail address determined by the information in your profile.
If you wish to be specific in your search, you will need to use quote marks around your phrase. For example, if you wanted to search for members of the Exeter Club, then typing Exeter in the Club search box would produce too many results as members of Exeter Castle, Exeter Eastgate and Exeter Southernhay would be included. To isolate your results to just members of the Exeter club you should include quotes around your search key to indicate an exact match, so: "Exeter".
You can also search for a number of different matches by separating your searches with forward slashes ( / ). For example, if you wanted to search for users with surnames of either Smith or Jones in the same search, you would simply type smith/jones into the name box.
In the drop down menus you can search for multiple roles by holding down the CTRL key and selecting those required.
In summary:
The search finds members that match all the keys you enter so when changing searches don't forget to clear any unwanted keys.
A key matches if it appears anywhere inside the relevant piece of information about a member. To find an exact match put quotes around it.
You can request matches against any of multiple keys by separating them with forward slashes.
To search for multiple roles hold down the CTRL key and select those required
If you put something in the RI number search box, that over-rides everything else.