Future meetings and events around the district
Carnforth - Thu 21st February 2019 at 18.45 - 22.00 Carnforth RC World's Greatest Meal Charity Dinner

Two Course Charity Dinner with entertainment by local vocalist Rachel Mercer. Cost £15.
Carnforth - Sat 9th March 2019 at 13.00 - Sun 10th March 2019 - 16.00 Carnforth Rotary Sponsored Swimathon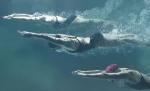 Carnforth Rotary is organising the second annual sponsored community Swimathon at the Carnforth Community Swimming Pool on Saturday 9th and Sunday 10th March 2019.