Future meetings and events around the district
Sat 21st November 2020 at 09.30 - 10.30 Environmental Talks to Strengthen Membership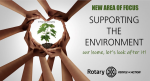 Talks by Rotarian Rodney Huggins, MBE and Gregor Murray, Climate Emergency. Saturday 21st November 2020 at 9.30am via Zoom
Members Only Information:
Click here to register in advance for this meeting
After registering, you will receive a confirmation email containing information about joining the meeting.
Wed 25th November 2020 at 19.00 - 21.00 Second District Council Meeting 2020/21
To be held on Zoom. All D1090 Rotarians welcome.
Sat 13th February 2021 at 09.00 - 13.30 District Officers Training Seminar - DOTS
The Training Seminar for the incoming District Officers at the Christchurch Centre in Henley on Saturday 8th February 2020 from 9.00 until 13.30.
Thu 25th February 2021 at 18.30 - 21.30 Third District Executive Meeting - DEM 3
18.30 for 19.00, Thursday 25th February at Badgemore Park Golf Club, Henley-on-Thames, RG9 4NR
Sat 20th March 2021 at 09.00 - 13.30 President Elect Training Seminar - PETS 2
The Second Training Seminar for the 2020/21 President Elects to be held in Henley at the Christchurch Centre on Saturday 20th March 2021 from 9.00 until 13.30
Wed 24th March 2021 at 18.45 - 21.30 Third District Council Meeting 2020/21
Christ Church Centre, Henley-on-Thames, RG9 1AG, Wednesday 24th March 2021 - Tea/Coffee/Biscuits available 18.45. All D1090 Rotarians welcome
Sat 24th April 2021 at 08.30 - 13.30 District 1090 Assembly
To be held at the Christchurch Centre in Henley on Saturday 24th April 2021 from 8.30 to 13.30
Thu 20th May 2021 at 18.30 - 21.30 District Executive Meeting - DEM 4
18.30 for 19.00, Thursday 20th May at Badgemore Park Golf Club, Henley-on-Thames, RG9 4NR