Completed meetings and events 2015-2016
Mon 27th June 2016 The Headteacher from Ysgol Aberconwy
The Head will be talking about the school and, we hope, about how Conwy Rotary Club can become involved
Mon 25th April 2016 Open Evening

An opportunity for people to come along and meet club members, and promote community awareness.
Mon 18th April 2016 The Holyhead Royal Mail Train Crash
The club secretary
read more...
Mon 11th April 2016 DG Visit at Conwy Valley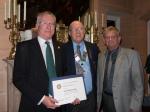 We joined Conwy Valley RC to meet with Chris Sumner, the district governor, where a surprise presentation was made to one of our members.
read more...
Mon 14th March 2016 Conwy Yoga

Helen Edwards of Conwy Yoga talked to the club about Dru Yoga and her experiences over the last 10 years.
read more...
Mon 15th February 2016 Building the Conwy Tunnel - Alan Swinson
The president will speak to the club
Mon 18th January 2016 Speaker - HomeInstead
a local charity aiming to help people stay in their homes rather than going into care home
Tue 22nd December 2015 - Wed 23rd December 2015 Christmas collections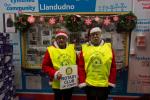 We are collecting at Tesco and ASDA, Llandudno Junction over 4 days this Christmas
read more...
Mon 21st December 2015 Christmas Party, with Conwy Valley
Once more, we will travel to Plas Maenan to join RC Conwy Valley in celebrating Christmas
Mon 14th December 2015 Club meeting (AS)
The president will speak to the club
Mon 7th December 2015 Speaker - Cath Pickering
Cath will be speaking about the Connect Buddies scheme, which helps people with learning disabilities.
Mon 23rd November 2015 Business Meeting
Club business, decide on donations etc
Mon 16th November 2015 Speaker from HomeInstead (RN)
(RN)
Mon 9th November 2015 Informal meeting
Meet at The Station Hotel, Llandudno Junction
Mon 26th October 2015 No meeting? Quiz v Bangor on 22nd
Mon 19th October 2015 club meeting (DN)
Speaker - DN
future
calendar
district events
local events