Completed meetings and events 2020-2021
Sat 10th April 2021 - Stôfiau newydd i Kibera, Nairobi / New stoves for Kibera, Nairobi

It has been wonderful to be part of a project by the charity Kanzi-Kibera Friends
read more...
Tue 2nd March 2021 - A talk on Mercy Ships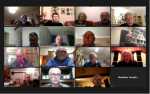 An interesting and thought provoking talk was had on Tuesday the 2nd of March
read more...
Wed 23rd December 2020 - Hamper Deliveries

Rotarians helping out with hamper deliveries for Denbigh Forget Me Not
read more...
Wed 9th December 2020 - Bucket Collections 2020

Supermarkets Bucket Collections as a fundraser
read more...
Sat 14th November 2020 - Bulb Planting On Rotary Road

Daffodil planting on the Denbigh by-pass.
read more...
Tue 20th October 2020 - Crocus Planting Time

To celebrate the involvement of Rotary as a key partner in polio eradication throughout the world
read more...
Tue 8th September 2020 Zoom meeting scheduled for Sept 8th,
General Zoom meeting for all club members
Wed 2nd September 2020 Club Walk
An afternoon walk for members on Wed September 2nd,
starting from the Salusbury Arms, Tremeirchion at 2.30pm. The walk is about 5 miles and will take us through woods to Sodom, along the ridge and back down through fields to finish at the Salusbury
Tue 7th July 2020 - Open Meeting
Open meeting via Zoom
future
calendar
district events
local events