Completed meetings and events 2018-2019
Wed 26th June 2019 Club Assembly and Handover
Tomato Soup
Beef Casserole, Mashed Potatoes Veg. Cashier Tom Howl
Wed 19th June 2019 Lunch Meeting 12.45, Speaker T.Solomon V.O.T. P Hodgson
Whole-tail Scampi, Chips and Peas
Fresh Fruit Salad
Fri 7th June 2019 Music for a Summer Evening
Guilsfield Singers at Welshpool Methodist Church
Tickets £10
Refreshments Included
Wed 5th June 2019 Friendship Meeting
Pre Ordered Sandwich Menu
Sat 1st June 2019 Coffee Morning Church House Welshpool
Wed 29th May 2019 Breakfast Meeting
Cashier Phil Owen
Wed 22nd May 2019 Charter Night
Relaxed Evening
Dress Code Casual Smart
Wed 15th May 2019 Lunch Meeting 12.45
Tomato Soup and Bread Roll
Chicken and Mushroom Pie and Veg
Wed 8th May 2019 Club Committees Evening Cashier Susie Harkness
Gammon Pineapple Chips and Peas
Royal Oak Eaton Mess
Wed 1st May 2019 Frugal Lunch at Welsh Chapel. Cashier Roger Brown
Local Charities
Wed 24th April 2019 Wise Owl Quiz Night. V.O.T. Dawn Stephens/Cashier Gwyndaf James
Roast Loin of Pork/Roast Potatoes, Veg and Gravy
Fresh Fruit Salad and Cream
Wed 17th April 2019 AGM and Business Meeting. Cashieer Tom Howl
Fish Chips and Peas
White Chocolate and raspberry Roulade
Wed 10th April 2019 Evening Meeting
Speaker Olwen John V.O.T Chris Townsend Cashier Tom Howl
Wed 3rd April 2019 Fellowshipo Sandwich Lunch
Pre order by Sunday 31st March
Cashier Sue Dunkley
Fri 29th March 2019 Plastic Waste in the Environment at the Corn Exchange Welshpool
Local businesses and representatives of environmental organisations have been invited, as have Town and County politicians.
Wed 27th March 2019 Evening Meeting
Speaker Dee Waterton/Cashier Tony Harvey/V.O.T. Phil Owen
Wed 13th March 2019 Canadian Students Presentation Evening
Cashier Peter Hodgson
Wed 27th February 2019 Evening Buffet Guests Invited
.Breathe. Film Show Fundraiser for End Poiio Now
Menu Choices to Royal Oak by Sunday 24th Feb!
Fri 22nd February 2019 Static Bicycle Fundraiser
Morrisons Welshpool
Wed 20th February 2019 Lunch Business Committees Meeting
Tomato soup Roast Loin of Pork
Cashier Mike Jone
Wed 13th February 2019 - Wed 20th February 2019 Evening Meal Speaker Sue Dunkley/Cashier Chris Townsend
Baked Lasagne and Salad. Chocolate Brownie
Wed 6th February 2019 Pre Order Lunch/Fellowship Meeting/Cashier Ewan Mac Loed
Please pre select Menu with Royal Oak Hotel
Wed 23rd January 2019 Chicken Liver Pate Beef Casserole Mash Potato
Speaker Briony Tilsely
Cashier Jeff Davies
VOT Mike Edwards
Wed 16th January 2019 Lunch Meeting
Speaker Justin Soper District Safeguarding Officer
Wed 9th January 2019 Rotary Business Meeting 9th January
Evening Business Meeting
Cashier Richard White
Meal Carrot and lentil Soup. Chicken and Mushroom Pie
Wed 12th December 2018 Xmas Meal
Menu Choices required
Wed 5th December 2018 S.G.M Lunch 5th December 12.45. for 1pm
Lunch Cashier Roger Brown
Wed 28th November 2018 Evening Meeting
Buffet. With presentation by Dr Chris Townsend and Bill Rowell on the Clubs Canadian Exchange. September 2018
Sun 30th September 2018 Race The Train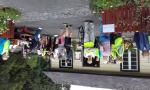 Race The Train
read more...
Sat 29th September 2018 Silver Band Concert
Silver Band Concert
read more...
Wed 26th September 2018 Evening Meeting: BBQ at Sue Dunkley
Sun 23rd September 2018 Hope House Canal Walk

Hope House Canal Walk
read more...
Wed 19th September 2018 Lunch meeting. Speaker = Ros Jones; Vote = Gwyndaf James; Cashier = Keith Patrick
Wed 12th September 2018 Evening meeting. Fellowship; Cashier = Nick Rushden. NOTE: 7th-17th is the Club Visit to Canada
Wed 5th September 2018 Lunch meeting. Speaker = Martin Edwards; Vote = Ian Hughes; Cashier = Mike Edwards
Wed 29th August 2018 Treasure Hunt out of town
Sat 25th August 2018 - Mon 27th August 2018 Book Fair, Town Hall
Book Fair at the Town Hall
read more...
Wed 22nd August 2018 Evening Meeting: Poetry Evening; Vote = Pres Dawn Stevens; Cashier = Peter Hodgson
Wed 15th August 2018 Lunch meeting. Visit To Centre for Alternative Technology - see sign-up sheet
read more...
Wed 8th August 2018 Evening meeting. Club Committees; Cashier = Richard White
read more...
Wed 1st August 2018 Lunch meeting. Speaker = Dee Waterton; Vote = Mike Pepper; Cashier = Tony Harvey
read more...
Wed 25th July 2018 Yorton Stud visit and Supper at Lowfield
read more...
Wed 18th July 2018 Lunch meeting. Speaker = Wendy Beavan; Vote = Estelle Bleivas; Cashier = Phil Owen
read more...
Tue 17th July 2018 Litter Picking

Litter picking
read more...
Mon 16th July 2018 Council Meeting
Wed 4th July 2018 Lunch meeting. Speaker = Ewen MacLeod; Vote = Tom Howl; Cashier = Francesca Jump
read more...
future
calendar
district events
local events